Ranch potatoes are prepared with red or white potatoes and may be boiled, roasted, fried, or baked. Before or after the cooking process, the potatoes will be coated with ranch seasoning. The ranch flavoring may come from bottled dressing or made from scratch, often with buttermilk, mayonnaise, and garlic.
People often experiment by preparing ranch potatoes in many ways, from dinner entrees, to side dishes, to snacks. Ranch wedge potatoes are an alternative to French fries and are prepared by cutting large potatoes into small wedges. Coating the potato wedges with olive oil and ranch seasoning is the typical way to prepare this recipe. The potato wedges may be baked in the oven, typically on a baking sheet.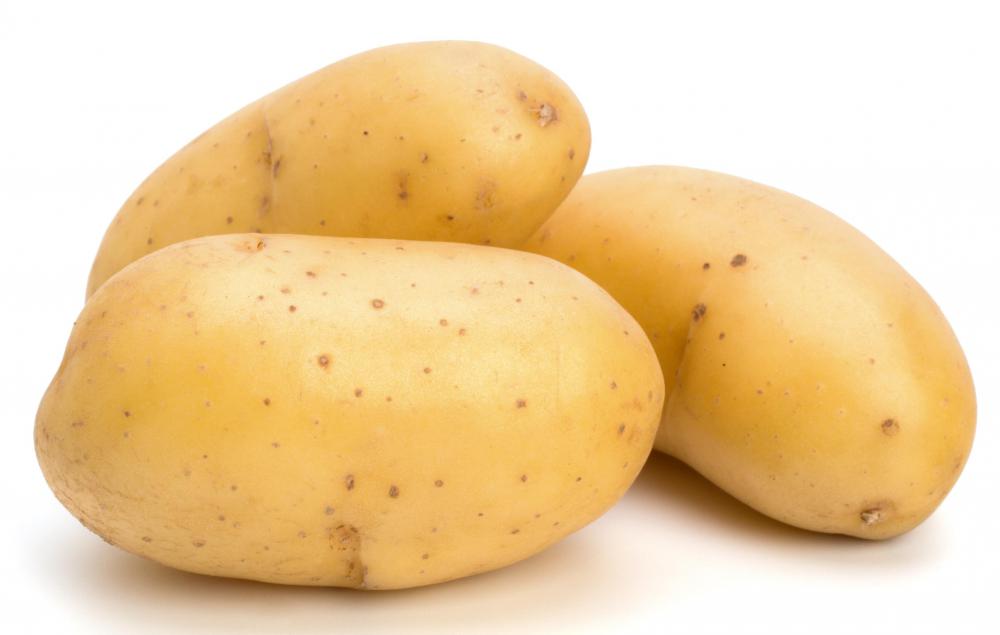 Another variation known as potato casserole may also be prepared with ranch seasoning or ranch dressing. This dish is often referred to as ranch potato casserole. Herbs and spices may be added to the casserole, along with onions, carrots, or corn. Ham and potato casserole dishes flavored with ranch seasoning are other popular favorites.
A popular side dish commonly known as potato salad may be prepared with ranch seasoning or ranch dressing. This recipe is called ranch potato salad and is made with cubed potatoes, ranch dressing, and fresh dill. Unlike other potato dishes that are served warm, ranch potato salad is traditionally served cold.
Ranch potatoes may also be made with bacon bits for crunchy texture and flavor. As an alternative to bacon bits, crumbled bacon pieces that have been cooked and drained may be used for this recipe. This bacon ranch potato recipe is typically made in a covered casserole dish.
Commonly prepared as a side dish, ranch mashed potatoes are a variation of traditional mashed potatoes. Some prefer to add ranch seasoning, onions, or cottage cheese to the mashed potatoes. For a simple alternative, some cooks add nothing but ranch seasoning to mashed potatoes.
Cheesy ranch potatoes are often roasted or baked as a main entree. Red or white potatoes are prepared using ranch seasoning or dressing, as well as shredded cheddar cheese. In addition, garlic, onion, and pepper may also be used for making cheesy ranch potatoes.
Not all ranch potatoes are served as entrees or side dishes. A snack food known as ranch potato chips are commonly sold in bags. Ranch potato chips are prepared by slicing potatoes into wafer thin pieces and frying them in oil before adding ranch seasoning.