What are Pre-Bonded Hair Extensions?
Pre-bonded hair extensions are pieces of hair, real or synthetic, that have a bonding agent pre-applied at one tip. The extensions are used to increase the length and fullness of a person's natural hair and can be cut and styled just like real hair. There are several types of these hair extensions, such as nail tip, rare remy nail tip, and stick tip. Each type comes in a variety of colors and textures.
Nail tip pre-bonded hair extensions are also called U-tip extensions. During the manufacturing process, bonding glue is placed at one end of the extension. A hair stylist attaches the glued tip of the extension to a client's hair with a professional heat connector clamp. This clamp resembles a thin hair straightening tool and has a built in lip to place the glue tip into. The hair stylist squeezes the top and bottom sections of the heat connector clamp together and applies pressure to melt the glue, bonding the client's natural hair to the extension.
Remy nail tip hair extensions are assembled so that all the hair cuticles are running in the same direction. This prevents tangles and keeps hair looking smoother and neater for a longer period of time. Remy extensions may also be more expensive when comparing prices to other pre-bonded hair extensions. These extensions are applied in the same way as regular nail tip extensions.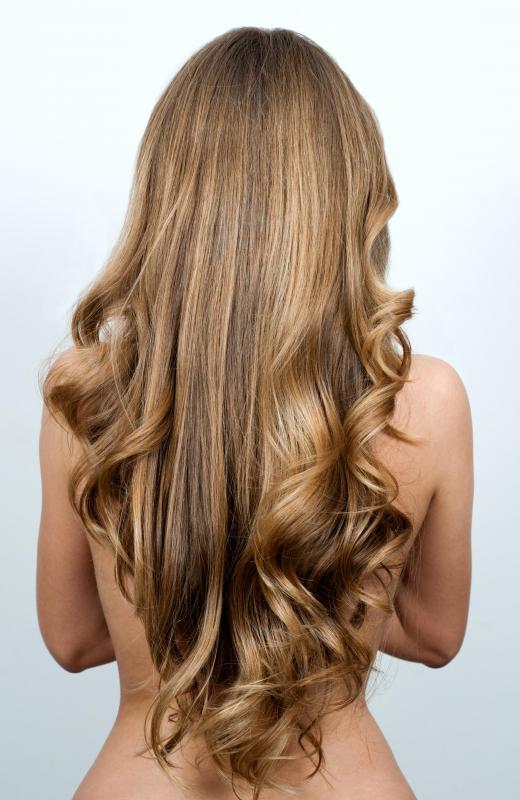 Stick tip, or I-tip pre-bonded hair extensions are also manufactured with the bonding glue at the end. This type of extension is different because of the way it is attached to the hair. A hair stylist uses small attachment devices called micro rings, micro loops, or shrink tubes to adhere the extensions onto the client's real hair.
Micro rings and loops are small hoops that match the client's hair color. The hair stylist clamps the micro rings or micro loops around the extension and the natural hair and then squeezes the ring tightly using a specially designed connector tool. The shrinkable tube method uses plastic rings that are applied in the same way, but are closed with a heat clamp to bond the plastic ring and the glue together.
The bonding agent most commonly used on pre-bonded hair extensions is keratin glue. This glue is formulated to prevent damage to the hair while providing maximum hold. As hair grows out, the glue can loosen and the extensions will need to be tightened or reapplied. Keratin glue is reportedly the safest glue to use for hair extensions. A hair stylist can remove the extensions with keratin remover.