What are Outdoor Wall Fountains?
Outdoor wall fountains can make interesting, as well as attractive, additions to the garden or landscape. With a wall water fountain, a pump that is concealed within a basin below circulates water. This water flows from an ornate fixture, or outlet, which is mounted to the wall. In addition to adding interest and beauty to the landscape, outdoor wall fountains provide other benefits as well.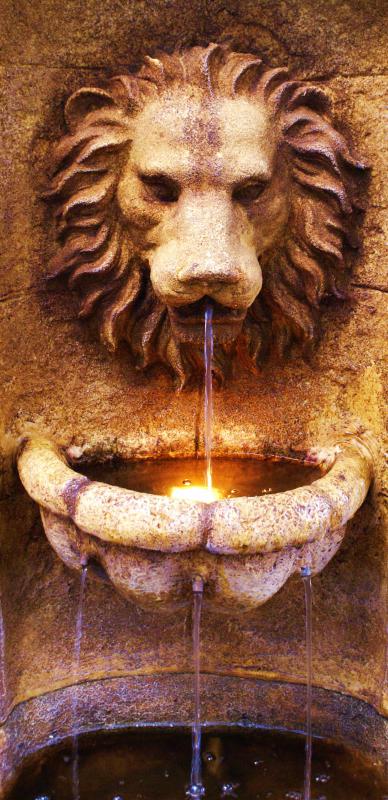 Just as with any other garden fountain, decorative wall fountains create soothing sounds from running water. This makes them ideal for use as relaxing backdrops for meditation. Wall fountains are also good for those with little garden space, since there's no need to worry about large, bulky materials. As there are many types of outdoor wall fountains to choose from, it's easy to find one to suit nearly any garden style or budget.
Outdoor wall fountain outlets are available in many styles, from real or artificial stone and concrete to metal, fiberglass and plastic. There are even decorative ornamental wall masks in a variety of textures. Garden wall fountains can be small or large, depending on space. They can also be dramatic or subtle additions to their outdoor setting. One of the most important things to consider when choosing an outdoor wall fountain is its size.
Outdoor wall fountains should always be in proportion to the space in which they are going to be installed. Wall fountains also require a sturdy wall to support their overall weight. Therefore, smaller areas or walls may require something lightweight. A nearby electrical outlet is also necessary to power the fountain. While the installation of outdoor wall fountains varies among the different styles, most of them contain easy, step-by-step instructions.
Most outdoor wall fountains are available in easy-to-use kits that include everything needed for proper installation -- submersible pump, hoses, etc. Occasionally, they even include the basin or reservoir as well. Depending on the size, the basin can usually be easily concealed among garden plantings. Once installed, outdoor wall fountains require little maintenance other than regular cleaning.
Water should be replenished and cleaned as needed. Any debris, such as leaves, twigs, or dirt, should be promptly removed as well. In addition, outdoor wall fountains should be protected from exposure to freezing temperatures in winter. Freezing water can cause cracking; therefore, the pump should be moved indoors to avoid damage. With proper maintenance and care, an outdoor wall fountain can last for years to come.