What are Jogging Clothes?
Jogging clothes are items of clothing worn while running or jogging. People have different preferences regarding the type of clothing they like to wear while exercising. In general, as long as one is comfortable and warm enough while exercising, it is not necessary to wear designated jogging clothes. For longer running events, however, it may be a good idea to purchase some specially designed clothes.
There are jogging clothes available in women's and men's designs. Jogging tops for women often have a built-in shelf bra; otherwise, most women prefer to wear a sports bra underneath the shirt. A tank top, t-shirt, or long sleeved shirt may be worn for jogging. In the winter, people often prefer to wear layers that help to add insulating warmth, but may be removed if one gets too hot. Jogging tops are often made of material that wicks moisture away from the skin, keeping one cool and dry while jogging.
Shorts, pants, or capris are also different types of jogging clothes. Some people find looser clothes to be more comfortable, but these can also create wind resistance. For races, or when trying to run for speed, runners typically wear tight, fitted clothes made from smooth fabrics. These can also help to prevent chafing on the legs. For jogging in the winter, layers of pants might be worn as well. People who run inside on a treadmill, however, might find that shorts or capris are cooler and more comfortable.
In addition, jogging clothes for winter might include mittens, gloves, hats, and scarves. It is important to stay warm when jogging outside in cold weather to prevent frostbite, and to keep the face covered with a scarf or face mask. Socks should be thick enough to keep the feet warm but not so thick that the shoes are uncomfortable to wear. Reflectors may be applied to the clothes when jogging at night. Clothes designed to be worn while jogging may be found in most department or sporting goods stores.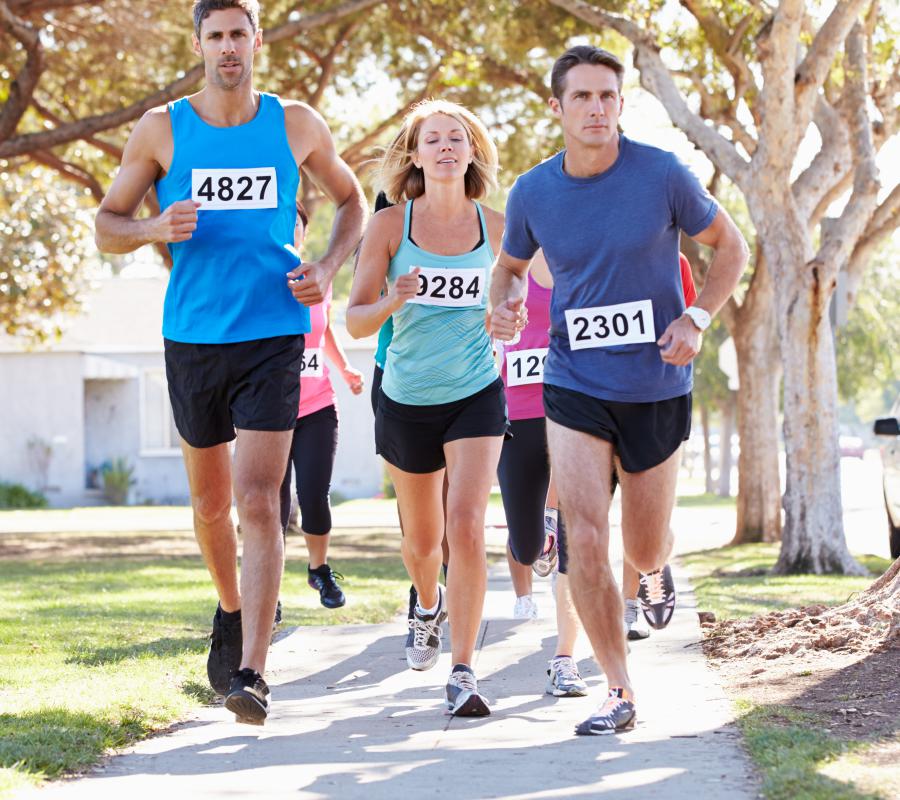 Of course, sneakers may be considered a type of jogging clothes as well. It is important to choose comfortable, supportive sneakers with good traction to wear while jogging to prevent any injuries. Sneakers and the jogging clothes worn with them may be as stylish as one wants; exercise clothing is available in many different colors and designs, often made from organic materials for people who are concerned about the environment. Choose clothing that is comfortable and easy to move in, and bright enough to make one easy to see while running along the road.