What Are Anti-Embolism Stockings?
Anti-embolism stockings prevent blood clots by applying sustained, even pressure to the legs. They are also known as TED stockings after a popular brand name and are available through medical suppliers. Some precautions need to be taken when wearing compression garments and it is advisable to talk to a medical provider before buying anti-embolism stockings. This can help a patient determine whether they are truly necessary and select an appropriate stocking size and level of compression, as they come in several grades.
These specialty garments are designed for patients with limited mobility who spend a lot of time in bed or recumbent. Such patients are at increased risk of blood clotting and swelling because it is difficult for blood and lymph to fully circulate through the legs. Anti-embolism stockings apply pressure to encourage fluids to move up the leg, with the highest pressure near the ankle and lower pressure further up the leg.
While wearing anti-embolism stockings, patients need to keep their legs elevated and cannot cross or massage them, as this can interfere with the compression and cause circulatory problems. It is also important to avoid wrinkles and pay attention to signs of discomfort that might indicate the stockings are too tight, not properly adjusted, or out of position. High compression can potentially cut off circulation in the leg, which would cause serious complications.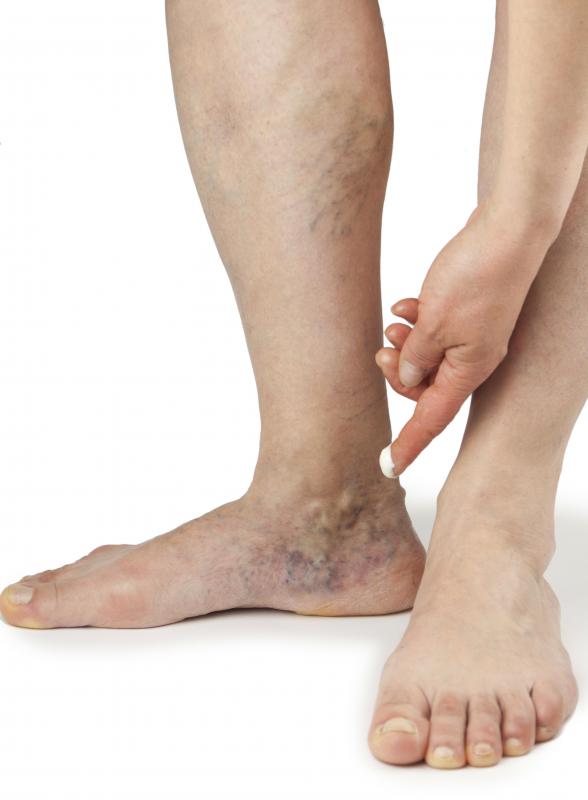 If a medical provider thinks a patient will benefit from anti-embolism stockings, the patient typically receives a two part recommendation. The first involves the stocking length, from mid-calf all the way up to the hip, depending on the specifics of the patient's case. Secondly, the necessary level of compression is determined. Patients shouldn't get stockings with a higher rating, because these could be dangerous. A nurse or other practitioner may provide instruction in how to safely put on and adjust the stockings so the patient can be assured of wearing them correctly.
In hospital settings, anti-embolism stockings may be recommended for patients recovering from surgery and serious injuries. Nurses may position and monitor the stockings for the patient. People who experience symptoms like numbness and tingling or sharp pains should report them, as they could be a sign of a bad reaction to the stockings. It's also possible to be allergic to components in the product; in this case, the patient may develop inflammation and irritation that cause itching, redness, and swelling in the legs.