How do I Choose the Best Sinus Relief Spray?
Choosing the best sinus relief spray could be a matter of a minute's thought or might involved consultation with a physician. Chronic sinus symptoms from allergies or other factors tend not to be relieved well by many over the counter products. Those suffering from a short-term problem, like a cold, could simply evaluate the sinus relief spray options available at a local pharmacy, but they should do so with some provisos in mind.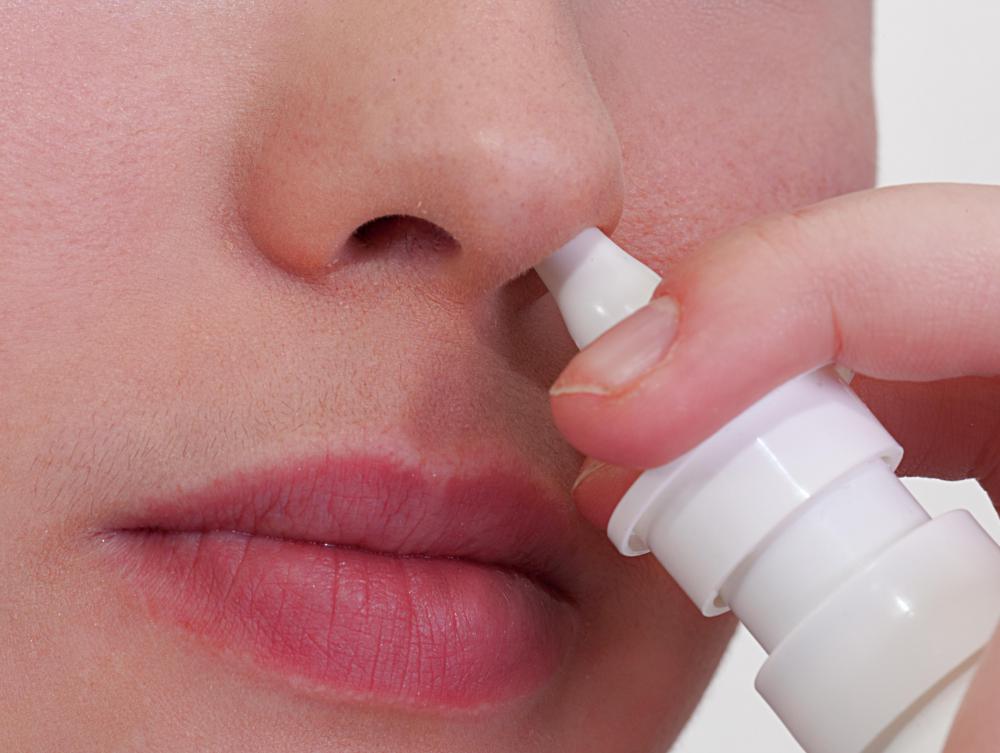 Some people have trouble with dry sinuses, and they might look for products like a saline spray, which can help moisten the nasal passages. Others find relief for this problem not with a spray but by doing daily nasal rinses or washes. These can clear pollen and dust out of the nose and could relieve minor congestion. The one type of product that people should possibly avoid in a sinus relief spray is any over the counter decongestant sprays.
The reason these pose an issue is because they first work very well, but after a few days' use, they have a rebound effect and may start to make congestion worse. Some people respond by using the spray more often. This creates a dynamic where it's possible to become addicted to nasal spray, and even if the original symptoms for which it was purchased no longer exist, the nose is constantly congested and use of the spray increases. To avoid this, if people choose to use a decongestant sinus nasal spray, they should limit use to the recommended number of days on the packaging. Should congestion still exist or worsen after recommended days of use, it's time to see a doctor.
Many people with chronic congestion are better treated by using a prescription nasal spray. There are a number of these, which typically contain some form of steroid and can reduce inflammation so that congestion lessens. Full effects of these products usually aren't felt immediately but symptoms can improve greatly in a few weeks.
Many people prefer using a prescription sinus relief spray to treat allergies, since they don't cause sleepiness like some antihistamines do. Choice of which spray to use is usually best decided by a doctor, in consideration of any other health issues or conditions patients can have or medications a patient might take. If one type of spray doesn't work, another may be better suited, and sometimes a trial and error process ensues until the most effective medication is found.
Most sinus relief spray products that are prescribed are compatible with saline spray or saline rinses. However, doctors may instruct patients to wait a set period after using a spray before rinsing or using a saline spray too. In most cases, though, use of saline rinses is advocated with the use of sinus nasal spray and may help promote greater comfort in the person with chronic congestion.
There are a number of "natural" over the counter sprays. They may not be subject to the same of level of testing as are standard over the counter medicines. Claims for these products should be regarded carefully, since they are not always accurate. Doctors, especially those familiar with complementary or alternative medicine, can offer useful advice on which natural products appear safe, reliable, and/or effective.