How Do I Choose the Best Gas Fireplace Mantel?
Homeowners have built and maintained fireplaces for thousands of years. Whether the fireplace burns wood or coal or uses electricity or natural gas, all fireplaces have two things in common: the insert and the mantel. The insert is usually integrated with the chimney and wall, but the mantel is largely a decorative element for the fireplace. The best gas fireplace mantel or gas fireplace surround incorporates several basic elements: quality construction, durability to withstand high temperatures and a design that enhances the overall architectural style of the home.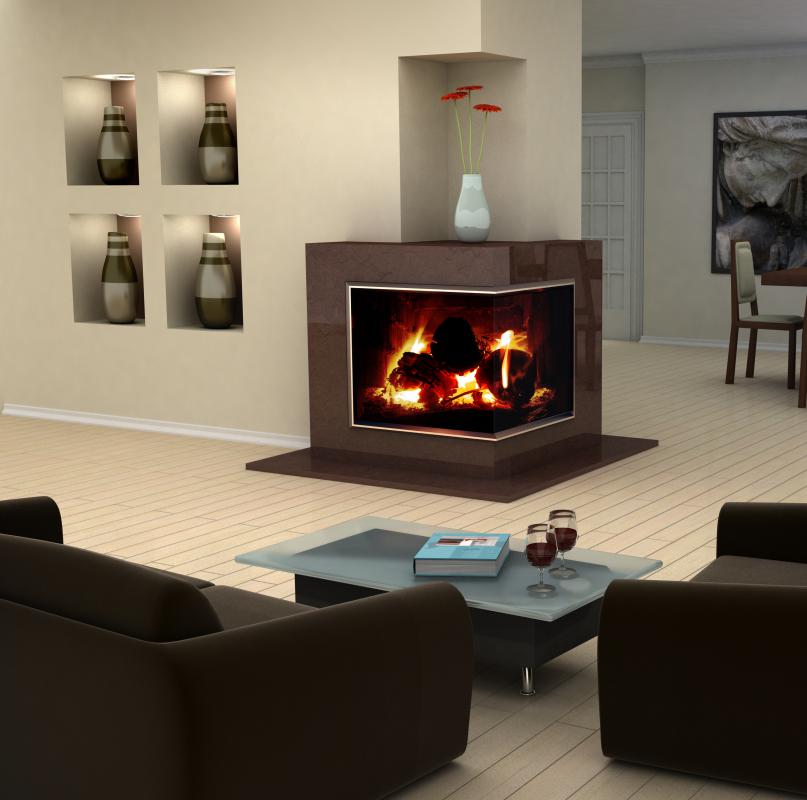 Manufacturers offer numerous types of mantels in every size, shape and material to suit every design style and preference: marble, wood or a wood composite, stone, faux stone, tile and more. The type of mantel you choose will depend greatly on the existing style of your home. A traditional home, with its high ceilings and wood floors, deserves a traditionally styled mantel. Talented craftsmen style wood and wood composite materials in works of art in a multitude of architectural styles: neoclassical with lathed legs, dentil trim or Grecian columns; Shaker style with its simple lines and neat appearance; or English or French country with its emphasis on carved florettes and leaves. A contemporary or modern mantel sports simple, clean lines with minimal decoration.
The gas fireplace mantel should enhance or accentuate the existing design style of the home. If your home is more formal and classical, select a more formal and classical style that reflects the architectural details of your home. If your home is contemporary with bold strokes and geometric shapes, select a gas fireplace mantel that continues the theme. The best gas fireplace mantel is one that accentuates your home's design scheme and architectural blueprint. Decorating a gas fireplace adds character to the room in which it belongs, and you can create a beautifully stylish focal point with a mantel's natural design and additional decor.
The best gas fireplace mantel features high quality craftsmanship. You can choose from a very wide variety of mantel materials, from inexpensive medium-density fiberboard (MDF) to luxuriously expensive carved marble, but be aware that inexpensive, low-quality materials might deteriorate sooner than more expensive mantels. The flames of a gas fireplace remain very consistent and do not wax and wane as wood fires do. Therefore, the best mantel for a gas fireplace is one that endures consistently high temperatures. Marble, stone, tile and hardwood are excellent choices for a long-lasting and beautiful mantel.