How Do I Choose the Best Garden Tools?
When choosing garden tools, consider the gardening tasks you do regularly and select the tools required for your needs. Chose the tools that are well constructed and built to last. It's best to shop at a garden center, where selection will be varied. Don't buy used garden tools unless you can inspect them carefully for damage.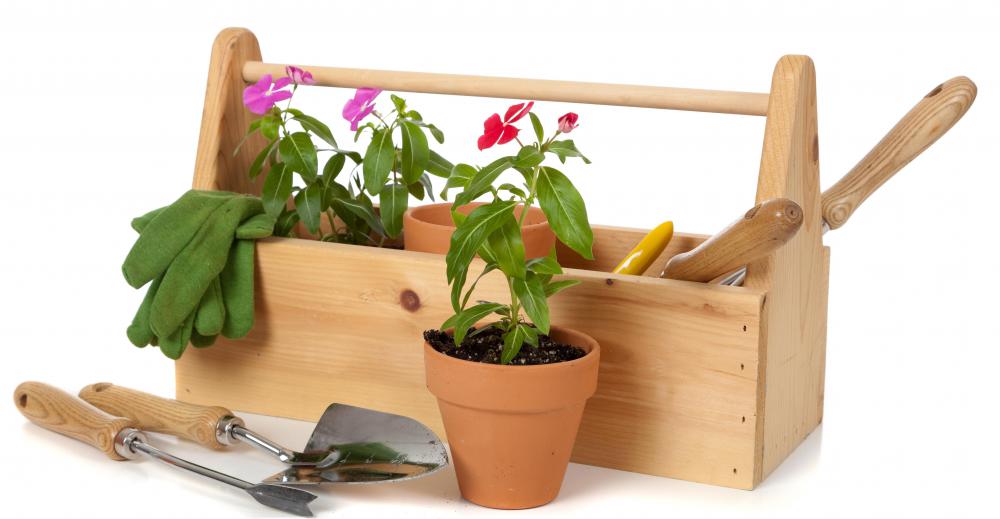 Most gardeners need a sturdy wheelbarrow or some type of utility cart to carry and transport soil, seeds, or other necessities for gardening tasks. The cart or wheelbarrow you choose should have at least one wheel for smooth movement. Two-wheeled wheelbarrows are more balanced and secure.
If you have many shrubs that need to be pruned or trees that need to be cut, you'll want a good pair of pruning shears and possibly a hand saw. Choose shears that have a comfortable grip handle, so you will be less likely to suffer stress or repetitive-motion injury. You probably can find a knowledgeable sales clerk at a home improvement store who can advise you on the right type of saw you will need.
Don't buy cheap tools that might warp or rust. Invest in good quality garden tools that are made with aluminum or steel. For tasks such as garden planting, choose a garden tool set that contains the basics, such as a trowel and cultivator. When shopping for garden tools, also consider buying a protective tool chest or some type of storage caddy.
As part of your collection of gardening tools, choose a good pair of gardening gloves. Garden gloves can protect your hands from injury, and also shield against bacteria when you are handling soil. Be sure to choose gloves that fit well and are heat resistant. Some garden gloves also provide support for the wrists while gardeners are working on repetitive tasks.
Choose garden tools that are versatile and can perform multiple tasks. This can save you money as well as the hassle of accumulating many tools. If you want something compact that comes in its own storage carrying case, choose an all-in-one garden tool set. In addition to this tool set, you'll most likely want to buy a rounded-tip shovel for planting a flower bed or fruit and vegetable garden.
Although you might see a good deal on garden tools online, you might not be able to judge the quality from a picture. It might be better to pick up a tool and see how it feels in your hand before buying it. Even tools that are advertised as ergonomically designed might not provide the comfort you need, which is why it's a good idea to buy your garden tools in person.