How Do I Choose the Best Boat Shoes?
When choosing a pair of boat shoes, also referred to as topsiders or deck shoes, select those that are water-repellent, with slip resistant soles and traction control. In addition to genuine leather, there are casual style canvas boat shoes, which may coordinate with your existing wardrobe. Deck shoes should be comfortable and supportive, with features such as padded cushioned tongue and insole. For the best selection and customer service, shop at a store that sells apparel related to sailing, where you may receive assistance from a qualified sales associate. Some boating shoes do not run true to size as ordinary sneakers do, therefore it's a good idea to try them on and walk around in them to be sure they fit well.
As deck shoes are made for wearing on damp or wet surfaces, be sure they are slip resistant, with material that repels water. Boating shoes are typically created in slip on varieties, often made of leather or canvas material. If you prefer something casual that can be slipped on your feet with ease, the simplicity of a no-lace design may suit you best. The slip-on boat shoes are often made of canvas material, similar to that of a sneaker, with stretch elastic sides for flexibility. This style may be worn with denim outfits as well as shorts.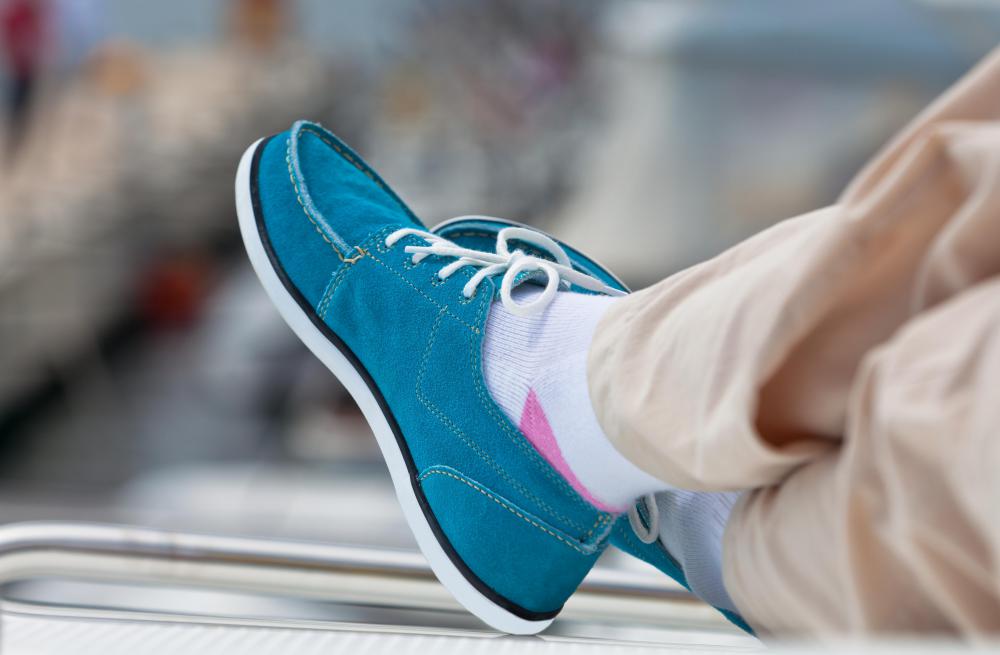 Laced leather boat shoes may offer more versatility, as these may be worn with dress slacks and pantsuits. Typically, leather or suede topsiders may be dressed up or dressed down, depending on the occasion. Consider nubuck leather, which is generally durable and comfortable.
Look for boat shoes with cushioned insoles for support. Cushioning along the tongue of the shoe may prevent pinching when walking or standing for an extended period of time. To receive assistance from qualified personnel, it may be best to buy your deck shoes at a specialty store that sells boating or sailing apparel. In addition, look for boating shoes with an official endorsement by a naval or sailing academy. Regardless of the style you choose for your deck shoes, good traction is necessary for use on a boat deck or around water.
As a general rule, it is a good idea to try both shoes on and walk around in them to ensure a good fit. Tie the shoelaces securely before walking. If you generally wear socks with your boat shoes, be sure to wear socks when trying on the shoes at the store. Flex your feet while wearing the shoes to test the resilience of the material. While all new shoes may feel slightly rigid, boat shoes should not feel overly stiff, even when new.