Why Is Michigan Called the Great Lakes State?
Michigan is called the Great Lakes State due to the fact that its shores touch four of the Great Lakes. These lakes include Lake Erie, Lake Huron, Lake Superior, and Lake Michigan. Almost half of this state is comprised of water. In addition to the four Great Lakes, Michigan has more than 11,000 inland lakes. People in Michigan are always within 85 miles of one of the Great Lakes and never less than 6 miles away from an inland lake. Experts state the Great Lakes were created by glaciers more than 12,000 years ago.
This state's name is also rooted in the Chippewa Indian word for "large lake." The upper and lower peninsula of Michigan is shaped by the four Great Lakes it is surrounded by, and the bodies of freshwater in the Great Lakes State can be viewed from the moon.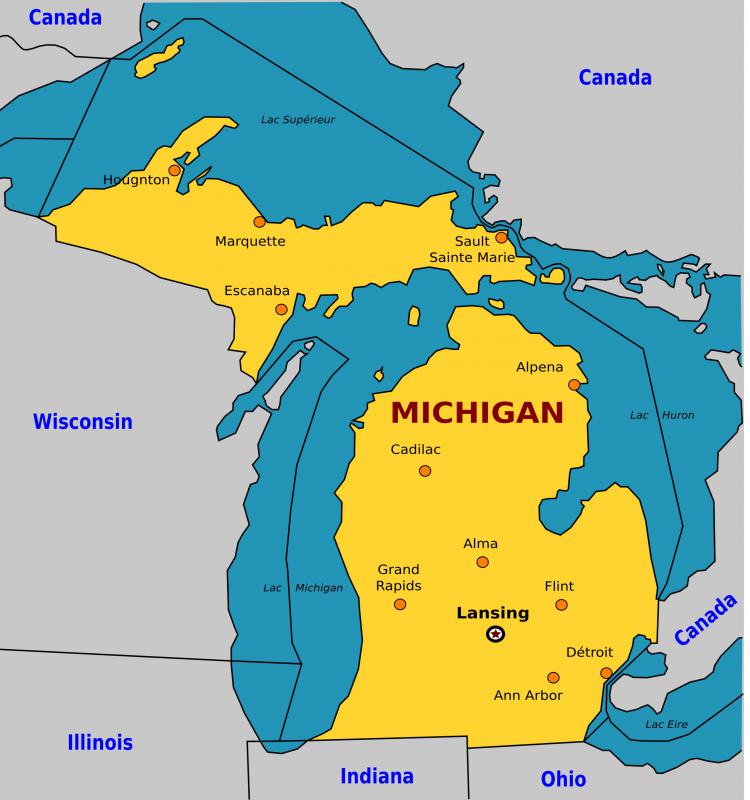 Lake Erie is the smallest of the four Great Lakes in Michigan. It accounts for a short stretch of coastline from the Detroit River to the Ohio border. The area of Lake Erie is 9,940 square miles (25,744 sq km). It is also the shallowest of all the Great Lakes and averages only 62 feet (19.8 meters) deep. Coastal marshes and wetlands can be found where Lake Erie meets the shore of the Great Lakes State.
The fifth largest fresh water lake on the planet, Lake Huron, is the second largest of the Great Lakes. Its surface area is 23,010 square miles (59,596 sq km). Michigan's eastern border is shaped by this lake, which was originally known as La Mer Douce by French explorers. Later, this Great Lake claimed its name from the Huron Indians.
The northern coast of the Great Lakes State comes into contact with Lake Superior, which is the largest freshwater lake found on Earth. Lake Superior covers 31,820 square miles (82,400 sq km) in the US and 11,081 square miles (28,700 sq km) in Canada. This lake has a history of shipwrecks and violent storms. Isle Royale is the largest island on Lake Superior in Michigan.
Lake Michigan is the second largest Great Lake. Of all the Great Lakes, it is the only one that is completely surrounded by the United States. Rivers and streams from the Great Lakes State drain into Lake Michigan, and a complete change of water occurs every 100 years as it flows into Lake Huron through the Straits of Mackinac.
Although the official state flower of Michigan is the apple blossom, the official state wildflower is the dwarf lake iris. It is a threatened species but can be spotted along the shorelines of the Great Lakes in Michigan. An image of a lake is also displayed on Michigan's state flag.