What Should I Consider When Planning a Wedding?
Planning a wedding is one of the most exciting and most stressful things a woman will ever do. There are a lot of factors to consider. Today's brides have more choices than ever before when it comes to planning the happiest day of their lives. It can very quickly become overwhelming.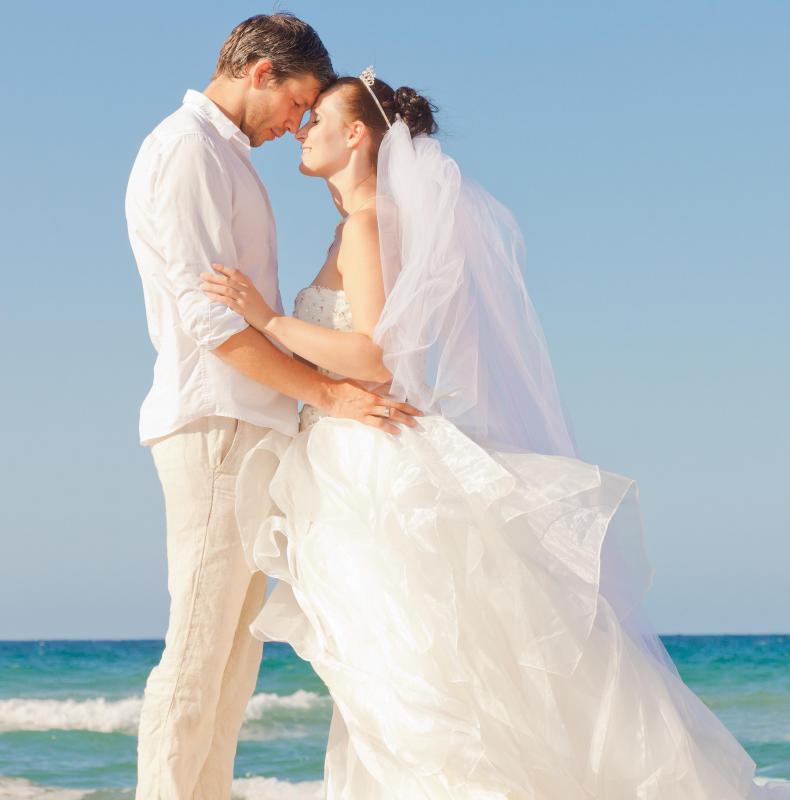 One of the most stressful parts of planning a wedding is figuring out a guest list. A small and simple wedding is perfect for some, but others want a huge celebration. Each one has its own potential problems. Narrowing down the guest list for a small wedding is difficult. A lot of people who would like to be there will be left out. A big wedding can be difficult to control, and the price tag that comes with it will be substantial. It is not unusual for each wedding guest to cost $60 or $79 US Dollars(USD), or more, by the time you figure in the meal, appetizers, cake, and drinks.
Most brides want to serve a meal worthy of the celebration. There are a lot of things to keep in mind here, too. First, think about your guests, and offer choices accordingly. For most weddings, offering two meat choices and one vegetarian choice should cover everyone. There are also appetizers to consider, as well as dessert choices. Some receptions offer other desserts besides the wedding cake. Also, consider how you want the food served. The main options are buffet-style, family dinner style (food is set out on tables, and guests pass it around,) and full service style. Appetizers can be served on trays carried by attendants, or set out on tables.
Planning a wedding also requires thinking about the multitude of services you will want, and the choices available for them. These services include floral arrangements, photography and video recording, and music. A couple must also consider where they want to be married, and by whom. They must also decide on a location. The best way to get the very best locations and services for a wedding is to book ahead, sometimes by a year or more.
Another aspect to consider when planning a wedding is the wedding theme. This idea has grown in popularity over the past ten years or so. Planning a theme can help set color options, decorations, and even food choices. This can make planning a wedding much easier. For example, a New York style wedding might offer cheesecake, and pretzel and hot dog carts for food. A theme can also dictate choices for favors. A garden themed wedding could be wrapped up by handing the guests small potted plants, or packets of seeds, as they made their way out the door.
It doesn't take much for even a small wedding to go over budget. There are several things to consider when trying to cut wedding costs. One of the biggest ways is to consider when the wedding will be held. A spring or summer wedding will cost a lot more than one held in the fall or winter. A reception that takes place in the morning, or between meals, can save a ton of money on food costs. Offering brunch, or just appetizers instead of a full formal meal, can usually reduce the cost of food by half.
There are a lot of choices when planning a wedding. A book on wedding planning can be a big help during this stressful time. Review all of the possible choices carefully before deciding on anything, and remember that this day is celebrating the beginning of a new life together with your partner. Don't become so caught up in details that you forget to enjoy your engagement.