What is Trauma-Focused Cognitive Behavioral Therapy?
Trauma-focused cognitive behavioral therapy (TF-CBT) is a form of psychotherapy used to treat people who have experienced traumatic events. It can be used with patients of all ages, including very young children, and may be suitable for the processing of a variety of types of trauma, ranging from severe car accidents to sexual assaults. Some psychotherapy practitioners offer trauma-focused cognitive behavioral therapy or can offer referrals to those who do if a patient seems like a good candidate.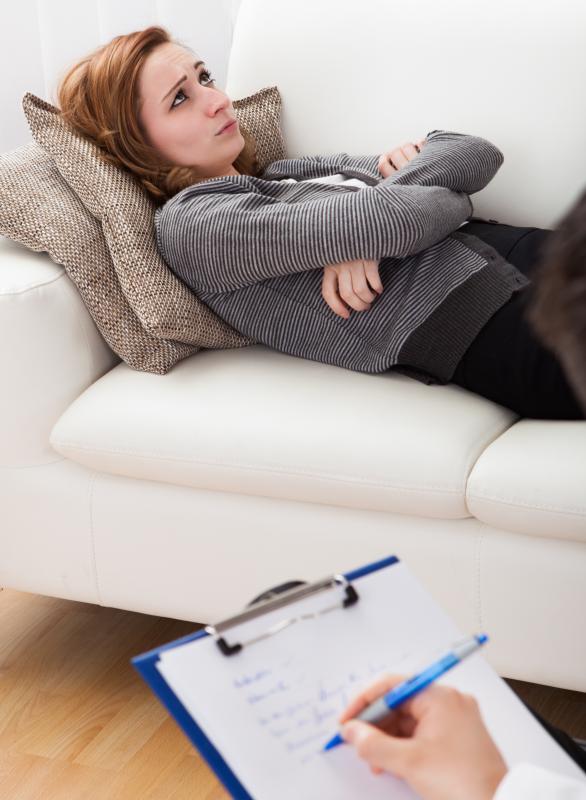 In conventional cognitive behavioral therapy, patients are encouraged to talk through events, deconstructing narratives surrounding those events and thinking about them in new ways. In the context of trauma-focused cognitive behavioral therapy, this can involve talking about the trauma, exploring common attitudes surrounding that trauma, and helping the patient develop a healthy and well-adjusted emotional state. During this process, patient and therapist can discuss emotional, physical, and behavioral changes associated with trauma and talk about coping skills.
Rather than plunging directly into the trauma, it is approached slowly and gently. Patients are encouraged to open up as they feel comfortable, gradually discussing the traumatic event in more detail and drilling down into specific aspects. Trauma-focused cognitive behavioral therapy can be used to treat people who have experienced physical and sexual abuse, severe bullying, warfare, traumatic injuries, and other events, sometimes years after the fact, and it may include a component intended to address signs of post traumatic stress disorder (PTSD).
Patients who have experienced trauma may develop stress reactions to varying degrees. They can experience trouble sleeping, become irritable or nervous, and may experience changes in appetite levels. The trauma can lead to nightmares, difficulty relating with people, and other issues. Trauma-focused cognitive behavioral therapy is designed to help patients address and move through the trauma so they start living more active, normal lives.
The number of sessions needed varies, depending on the patient and the nature of the trauma. In the case of children, a component involving the parents is often included as well, so the parents can help support their children and learn more about how trauma works and impacts behavior. People can also integrate partners into their trauma-focused cognitive behavioral therapy, as partners of people who have experienced trauma may have emotional issues they want to work on, as well as a desire to learn more about how to support their loved ones.
This approach to psychotherapy is supported with data from a number of clinical studies. It is usually covered by health insurance and government health care plans, although limits may be set on the number of sessions. People concerned about paying for therapy can discuss options like reduced rates and payment plans with their therapists if they want to continue the therapeutic relationship after benefits are no longer available.