What is the Triceps Brachii?
The triceps brachii is a three-headed muscle that runs the length of the posterior upper arm. Chiefly employed in extension of the elbow joint, the long head of the muscle attaches to the scapula, and participates in moving the arm backward and toward the body, as in the pulling motion of raking leaves. As a relatively large muscle of the arm, the triceps is capable of moving a significant amount of weight, and has potential for injury when overworked.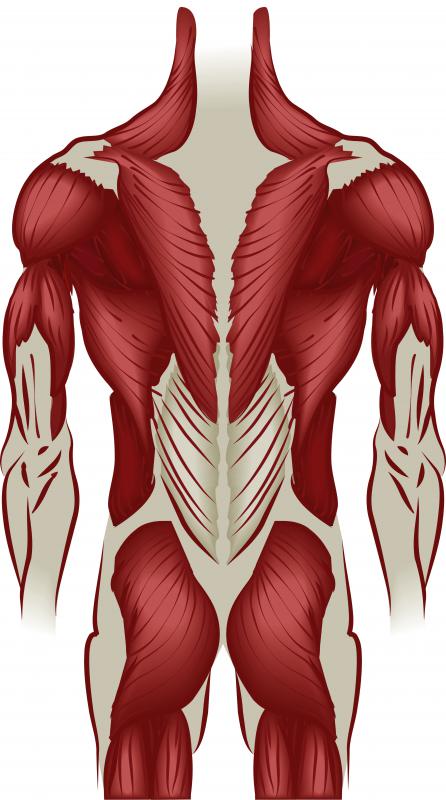 All three heads of the triceps brachii share a common tendon, which inserts at the olecranon of the ulna, but each have a distinct origin near the shoulder joint. The lateral head, furthest from the torso, originates at the infraglenoid tubercle of the shoulder blade. This section of the muscle assists in shoulder motions in addition to elbow joint movements. The medial head and lateral heads originate at separate areas of the posterior surface of the humerus, making these heads primarily responsible for elbow extension. The triceps is enervated by the radial nerve, which originates from the sixth to the eighth cervical vertebrae.
Most upper body activities involve the triceps brachii on some level, particularly pressing with the arms. Daily triceps activities include closing doors, peeling carrots, and stabilizing a pen while writing. Formal exercises for the triceps usually take the forms of presses and extensions, such as close grip bench presses, triceps extensions, and push-ups. While many people associate the biceps brachii with upper arm size, the triceps is a larger muscle and is actually responsible for much of the mass of the upper arm.
The triceps is a fairly strong and stable muscle, but excessive stress can create muscle inflammation, tears, or tendon rupture. Placing significantly greater demands on the muscle than usual, or lifting heavy weights without performing a proper warm-up beforehand, can irritate or even tear the triceps brachii. Triceps tears do not usually require surgery, but are nevertheless painful injuries requiring lengthy rehabilitation.
Tendon rupture can sometimes occur as a result of a fall or other stress to the muscle. Falls that apply direct pressure to an outstretched hand can deliver the force of impact to the triceps tendon, causing a rupture. Similarly, excessive weight loads from sports or exercise can lead to triceps tendon rupture, as well. This cause of injury is particularly common among football linemen and weight lifters. Certain disorders, including diabetes mellitus and hyperparathyroidism, can predispose some people to triceps tendon rupture.
Whatever the cause, tendon rupture is a serious injury that usually requires surgery for full recovery and continued use of the triceps brachii. In most cases, surgery should be performed within two weeks of the injury. Any time injury to a tendon is suspected, prompt medical attention should be sought to prevent improper healing or further damage to the tendon, and allow optimal healing to take place.