What Is the Treatment for a Bowel Infection?
Patients suffering from the effects of a bowel infection like diarrhea, abdominal pain, or even rectal bleeding can typically take steps at home to treat it, but may also need medical care as well. For any type of infection in the bowel, a person should get plenty of rest, drink a lot of fluids, and eat bland foods. If the infection is caused by bacteria, a doctor may prescribe antibiotics. He or she may also recommend the use of laxatives in some cases. Sometimes, infections in the bowels may indicate a larger problem, such as diverticulitis or Crohn's disease, which may require diagnostic tests to determine the best course of action, which in turn may include lifestyle changes, medication, or even surgery.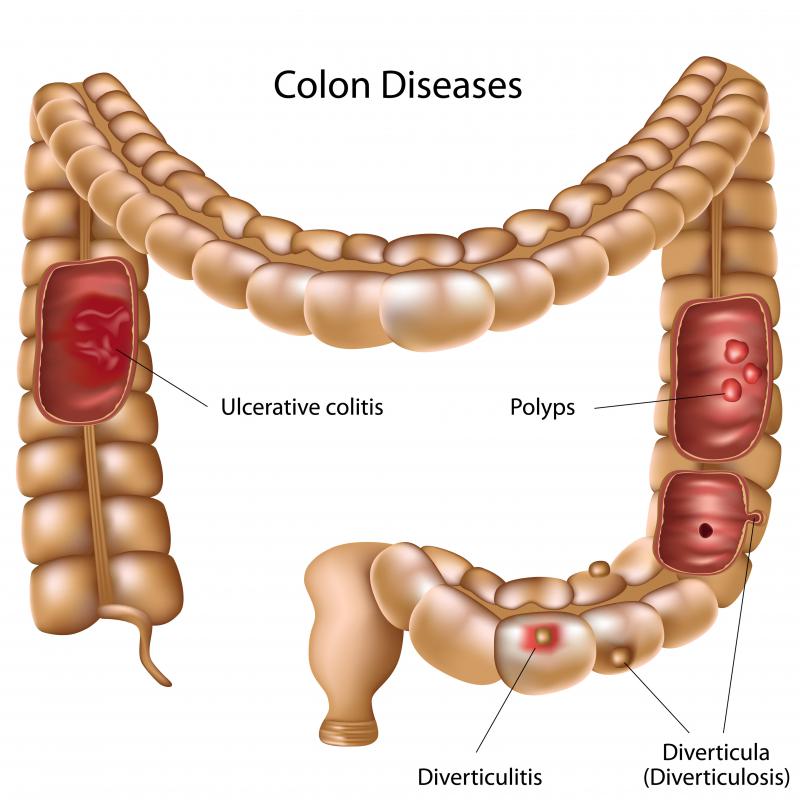 There are some basic steps anyone can take at home to help treat this condition. It is important to rest so the body is allowed to fight off the infection and recuperate. Eating bland foods or possibly even a completely liquid diet may help. Drinking extra fluids is also important to keep well-hydrated, particularly for those suffering from diarrhea.
A bowel infection is often the result of a pathogen attacking the digestive tract. If the infection is viral in nature, the person may simply need to wait it out, but for bacterial infections a doctor may prescribe antibiotics. Since the symptoms for both types of infections can be very similar, it is important for the doctor to determine which type it is before deciding on treatment.
Another type of treatment that may be used for a bowel infection is a course of laxatives. These are drugs that can help stimulate the body to pass a bowel movement. This type of treatment may help if the infection is causing constipation, and will typically only be used for a short period of time until the issue resolves.
While an infection is often simply an acute problem that lasts for a short time and then resolves, it may be a symptom of a more chronic condition, particularly if infections occur repeatedly. Diseases like diverticulitis, irritable bowel syndrome, and ulcerative colitis may all lead to bowel infection symptoms, as can more serious conditions like Crohn's disease and colon cancer. If a doctor suspects this to be the case, he or she may want to perform tests like blood sample analysis or a colonoscopy. Once a condition is diagnosed, the appropriate course of treatment can then be determined for the patient.