What is the Thoracic Cage?
Vanessa Harvey
The thoracic cage is also known as the rib cage. It is composed of 12 pairs of ribs attached to the posterior of the body via 12 vertebrae known as the thoracic spine, a part of the backbone located just beneath the cervical spine, or neck. The protection of vital organs such as the heart, lungs, liver and stomach is an extremely important function of the thoracic cage.
Only the upper 10 pairs of ribs are attached to the anterior, or front part, of the body. As the upper seven pairs curve around the sides toward the front, each rib meets with a thin piece of cartilage, a very tough but flexible tissue. That cartilage extends to where it attaches to the sternum, commonly referred to as the breastbone.

Get started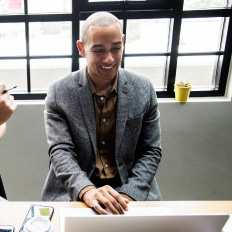 Wikibuy compensates us when you install Wikibuy using the links we provided.
The eighth, ninth, and 10th pairs also wrap around to the anterior of the body, but the cartilage that connects them to the sternum is shared instead of being individual pieces. There is no anterior attachment of the 11th and 12th pairs of ribs, which is why they commonly are referred to as the "floating" ribs. Illustrations and an X-ray of the anterior thoracic cage might show only a portion of the 11th rib pair, and the 12th pair tends to be so short that it will not show at all except from a lateral or posterior view of the body.
Costal cartilage connecting the pairs of ribs to the sternum prevents the entire thoracic cage from being composed of bone. This is important because respiration is dependent upon the expansion and contraction of the chest cavity, and bone is too hard to allow for the flexibility in the chest cavity that is needed in order to be able to breathe. The thoracic cage's shape is referred to as a cage because it encloses most of the body's torso, and the rib pairs create the appearance of bars similar to those of a cage.
Laypeople should not expect to be able to palpate the floating rib pairs or the costal cartilage that forms part of the thoracic cage. A fracture of any part of the ribs can cause extreme discomfort and injury to the organs of the chest cavity. For example, automobile accidents can cause a person's chest to be suddenly and very forcefully compressed against the steering wheel, resulting in the fracture of one or more ribs that could stab the heart, a lung, the liver or the stomach and cause an internal hemorrhage.