What Is the State Motto of Michigan?
The state motto of Michigan is "Si Quaeris Peninsulam Amoenam Circumspice." This is Latin for "if you seek a pleasant peninsula, look about you," referencing Michigan's location between Lake Michigan and Lake Huron. This phrase was chosen in 1835 and has been the official state motto of Michigan since it became a US state in 1837. The state motto of Michigan is most associated with the state's official Coat of Arms and the Great Seal of the State of Michigan.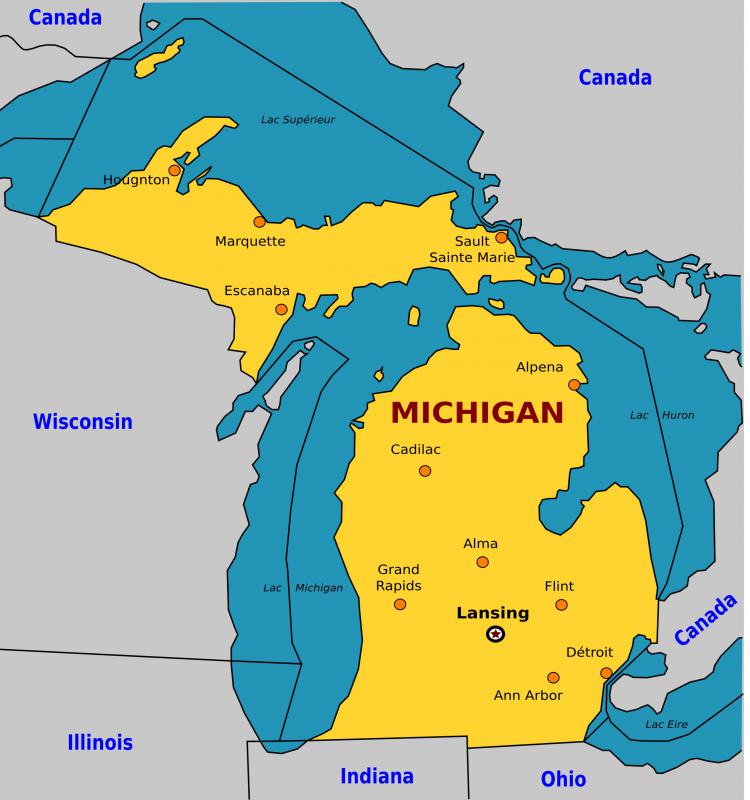 Michigan's coat of arms contains a blue shield at its center with an image of a man standing on a shoreline with his right arm upraised and his left holding a rifle or musket by the barrel while the butt of the weapon rests on the ground. Above this image is the word "Tuebor," which is Latin for "I will defend" or "I will observe." Images of an elk and moose stand to either side of the shield, while above it is a bald eagle similar to the one that appears on the Great Seal of the United States and the words "E pluribus unum," Latin for "Out of many, one." The words "Si Quaeris Peninsulam Amoenam Circumspice" appear below the shield, in black letters on a white ribbon. The great seal of the state of Michigan consists of the coat of arms placed on a light blue background surrounded by a red circle containing the words "The Great Seal of the State of Michigan" above the coat of arms and "A.D. MDCCCXXXV," the Roman numeral for 1835, below it.
Si Quaeris Peninsulam Amoenam Circumspice was chosen as the state motto of Michigan when the state's Constitution was ratified in preparation for statehood in 1835. It may have been inspired by the phrase "Si monumentum requiris, circumspice," Latin for "If you seek a monument, look around you," that is inscribed at St Paul's Cathedral in London on the tomb of the cathedral's architect Christopher Wren. However, the Michigan Territory did not actually become the State of Michigan until 1837 because a boundary dispute between the Michigan Territory and the State of Ohio over a narrow strip of land in what is now northwestern Ohio delayed Congressional recognition of the new state until its borders had been permanently fixed. The peninsula referred to is Michigan's Lower Peninsula, since the Upper Peninsula was added to the newly recognized State of Michigan by Congress in 1837 as part of the resolution of the state's dispute with Ohio and was not part of the Michigan Territory when the motto was chosen in 1835.