What is the Renal Tubule?
The renal tubule is an important structure in the kidney that contains tubular fluid, a filtrate that eventually becomes urine, and is excreted from the body. Renal tubules are part of the nephron, the basic functional unit of the kidney. Each normal human kidney has about 800,000 to one million nephrons, and each nephron has a renal tubule.
The renal tubule is the end of the nephron. After the tubular fluid leaves the renal tubules, it passes on the the collecting duct system, which connects the nephron to the ureter, through which urine is excreted. The renal tubule has many important components.
The tubular fluid begins as glomular filtrate, consisting of fluid filtered out of the blood by the glomerulus, another portion of the nephron. As the filtrate leaves the glomerulus, it enters the proximal tubule, the first portion of the renal tubule. The proximal tubule in turn is divided into two parts: the convoluted portion, or pars convoluta, and the straight portion, or pars recta. The pars convoluta has greater cell complexity, but the difference in function between the two parts of the proximal tubule is not fully understood. The proximal tubule regulates the pH of the filtrate, secretes organic acids that the body does not need into the filtrate, and reabsorbs water and sodium into the blood through the peritubular capillaries.
The middle portion of the renal tubule is called the loop of Henle, named after the German physician who discovered the structure in the 19th century. The loop of Henle serves to further concentrate sodium and chloride ions, urea, and other waste products in the urine by reabsorbing water into the bloodstream. The loop of Henle can be divided into five segments.
The first two portions of the loop of Henle, the thick descending limb and the thin descending limb, are both highly permeable to water, but have low permeability to ions and urea. The next section, the thin ascending limb, is permeable to ions, but not to water. The medullary thick ascending limb is also impermeable to water, and the reapsorption of ions into the blood stream occurs in this portion of the loop of Henle. Finally, the cortical ascending limb is the section that drains urine into the distal convoluted tubule, the last portion of the renal tubule.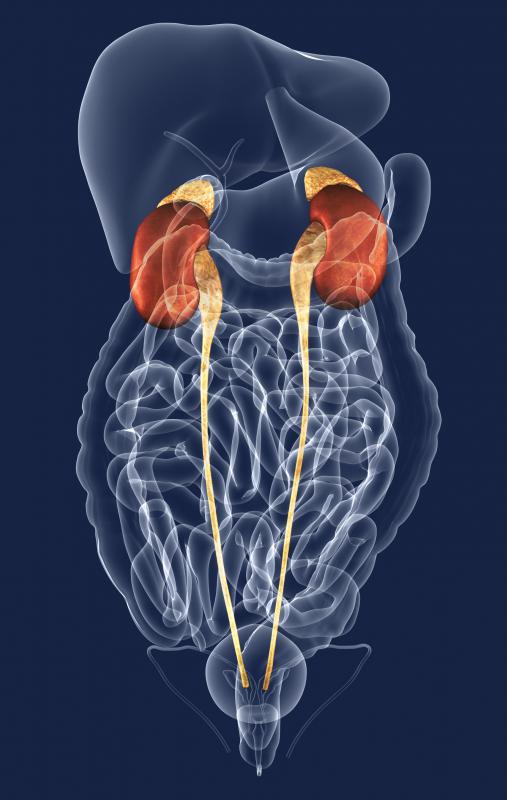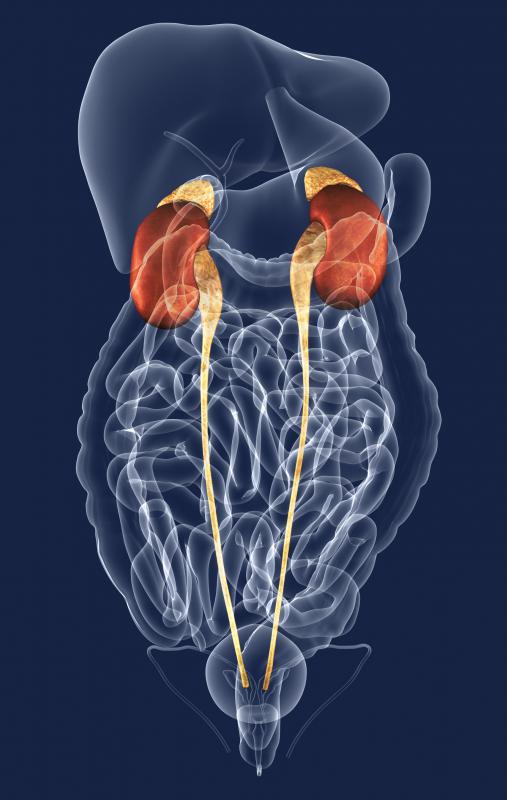 The distal convoluted tubule helps regulate the pH of the urine by secreting positively charge protons, hydrogen atoms with one proton, into the urine and by absorbing negatively charged bicarbonate. This helps prevent the blood from becoming too acidic. The distal convoluted tubule also helps regulate sodium, potassium, and calcium levels in the blood.
A diagram of a kidney.

The renal tubule is part of the filtration system in the nephrons of the kidneys.

The kidney contains 4 million nephrons, which are responsible for filtering the blood.

The ureter is the tube through which urine moves from the kidney to the bladder.