What Is the Relationship between Grammar and Writing?
The connection between grammar and writing is a very important one. The rules of grammar help to govern the way writing takes place, and ensure that it can be easily understood by the people who read it. Every language in the world has different rules for grammar and writing. They all have specific conventions regarding syntax, or the way words are arranged in a sentence, as well as punctuation usage, verb conjugation, and other important aspects of written and spoken language. It is important to keep in mind that though proper grammar is important for good writing, it is also very important for speaking the language properly as well.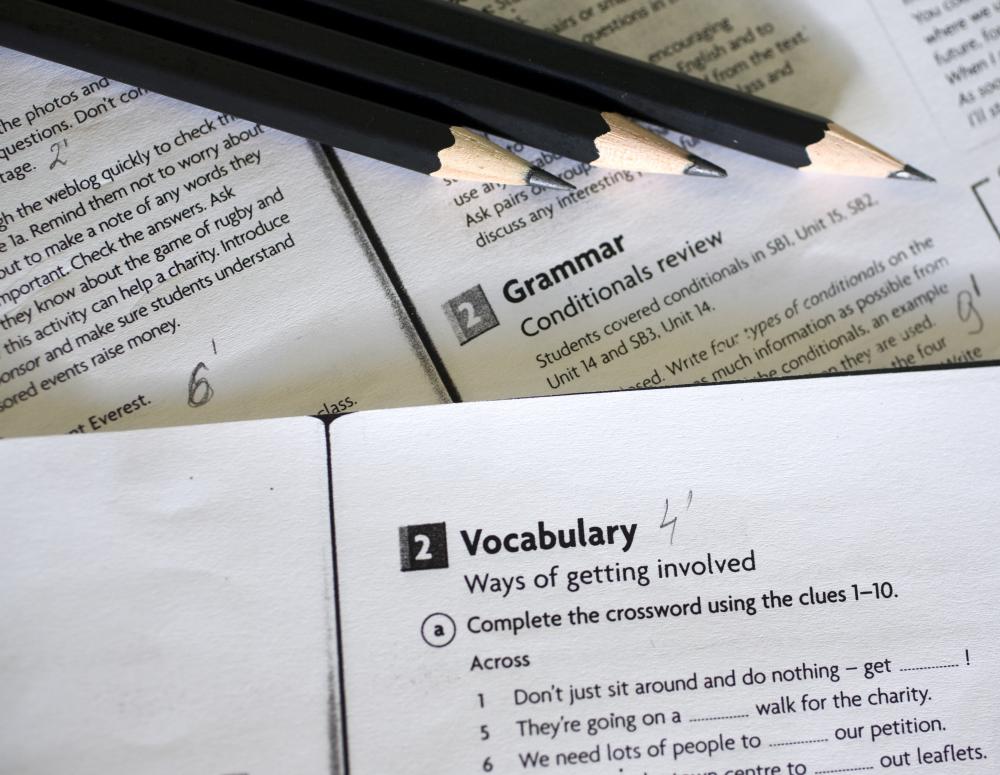 The importance of grammar and writing cannot be overstated. While certain parts of a society may adapt their own dialectal variations as a part of their cultural identity, a failure to also be able to follow the conventional grammar rules will greatly limit a person's opportunity to communicate with a wider audience. Someone may be a very talented writer with a lot of great ideas, but if they have poor grammar, they will have trouble communicating those ideas to other people. As a result, they may get poor grades in school, or may never get anything published, even if they have a lot of important things to say. People begin learning grammar from the time they first begin to speak, which means bad habits can be difficult to break, even with further education in school.
Grammar education typically begins in elementary school and continues all the way through college, depending on the educational path that the student is taking. People studying English or education, for example, will have ample opportunity to study grammar and writing as they progress throughout their education. The purpose of this is to ensure that the rules of grammar and speaking the language properly become second nature, which they ideally should over time. Moreover, a teacher must not only be able to communicate with proper grammar, but he must also be able to explain the rules as well.
The rules of grammar help to govern the mechanics of writing, which is what makes the connection between grammar and writing so important. These basic building blocks help to make people's writing readable and understood by others. Syntax, for example, governs the order that words are placed in a sentence; imagine trying to read in a language in which the word order in a sentence was completely arbitrary. Punctuation helps to alert the reader when to pause or switch to a new thought. Verb conjugations ensure that the subject and verb match, which is another thing that can be confusing if they don't line up properly. Morphology, which is the specific words and parts of speech used, is another one of the more important aspects of grammar and writing.