What is the Olecranon Process?
The olecranon process is the prominent bony projection of the ulna bone that can be felt at the elbow. Hook-like in shape, it is the structure that curves around the bottom of the humerus bone in the upper arm and encapsulates the elbow joint. It also is the site of attachment for several muscles of the arm.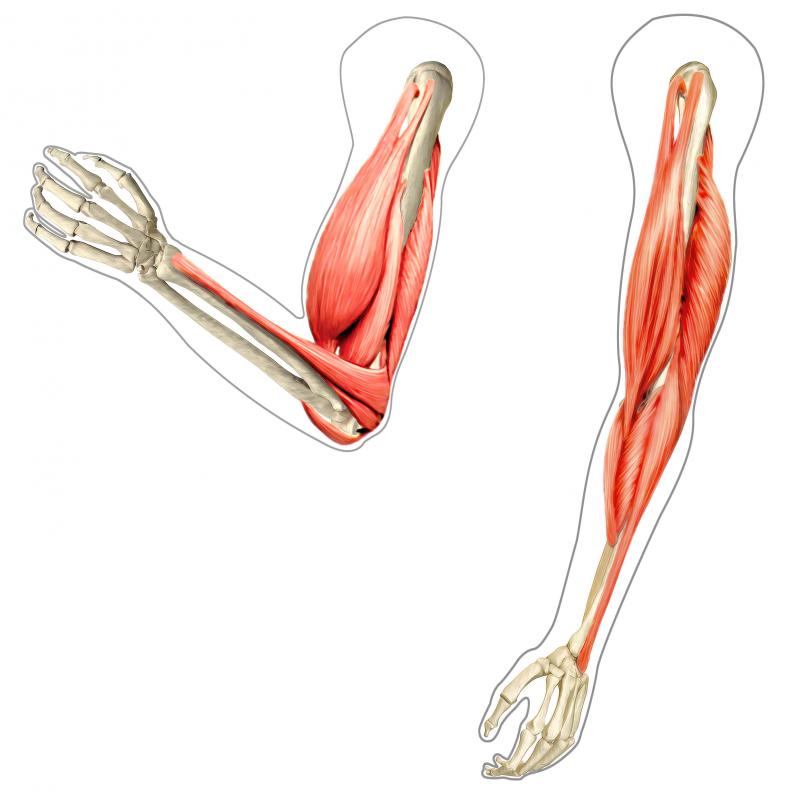 An important segment of the ulna bone, the larger of the two bones in the lower arm, the olecranon process is located on the proximal end of the ulna where it intersects with the humerus. When the arm is hanging at a person's side with the palm facing forward, the olecranon can be found on the posterior or back side of the arm, pointing slightly inward toward the torso. In this position, the curve of the projection is facing forward, with the convex side facing back.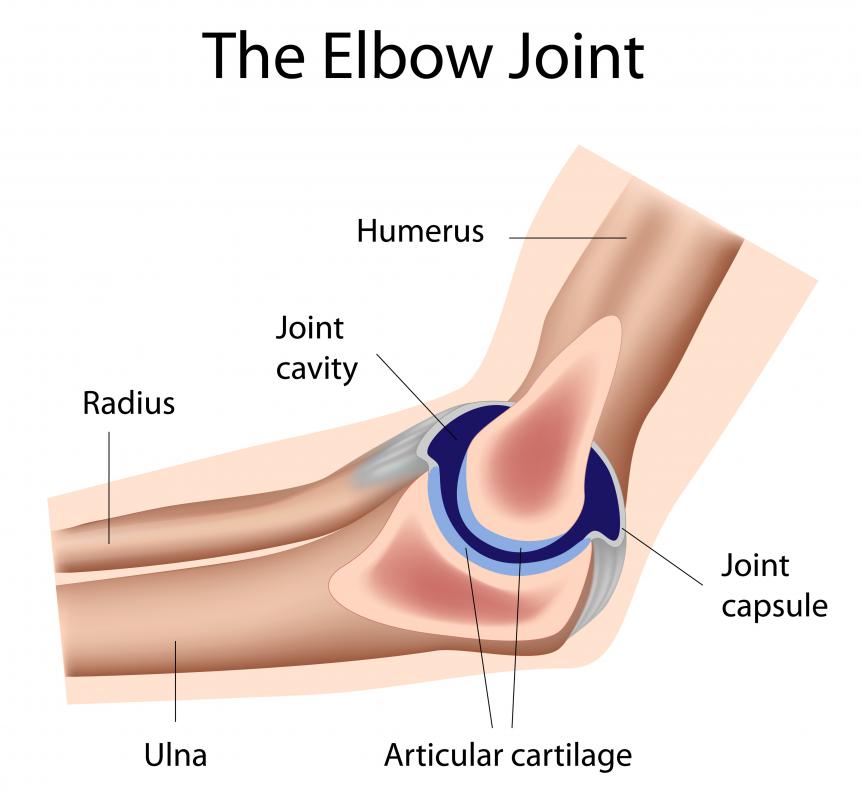 The concave anterior surface of this area is home to a cavity called the semiulnar notch. This is where the olecranon, with its protruding hook curving into a depression on the humerus known as the olecranon fossa, wraps around the base of the humerus bone during extension or straightening of the elbow. The shape also ensures that the humeroulnar joint, the hinge joint at the elbow, does not get crushed when the arm is bent and flexed.
Several muscles of the upper and lower arm attach at the elbow on the olecranon process. In the posterior compartment of the upper arm, the three heads of the triceps brachii converge into a single tendon that connects here. The function of the triceps muscle is to extend the elbow joint and straighten the arm, so it necessarily crosses the joint and attaches on the ulna to make that possible. Another muscle that crosses the elbow joint and connects at this point, assisting the triceps in extending the elbow, is the anconeus. The anconeus is a tiny muscle that originates on the humerus and runs alongside the olecranon where it attaches on the lateral border.
In the posterior compartment of the forearm, the flexor carpi ulnaris muscle attaches to the projection on the ulna. Originating here, it begins on the medial or inside border of the olecranon and inserts on several bones of the hand. The function of the flexor carpi ulnaris is flexion and adduction of the hand at the wrist: pulling the palm of the hand toward the elbow, and waving the hand to the pinky side, respectively.