What is the Distal Biceps Tendon?
The distal biceps tendon is one of two tendons connecting an end of the biceps brachii muscle in the anterior arm to its attaching bone. This band of fibrous connective tissue is located at the distal or lower end of the muscle, where it crosses the elbow and connects the two heads of the biceps to the radius bone in the forearm. Leveraging the force created by the contraction of the biceps across the elbow, the distal biceps tendon makes movement at both joints found here possible.
Originating on the top of the scapula on the coracoid process and the supraglenoid tubercle, respectively, the short and long heads of the biceps muscle arise from its proximal tendon. "Proximal" is a term of relative location used in anatomy to indicate proximity to the trunk of the body along an extremity. The biceps, then, has a proximal end, which is nearest to the shoulder, and a distal end, which is toward the elbow and therefore farthest from the trunk of the body. Hence, the distal biceps tendon is the lower of the two, found at the far end of the muscle where the two heads converge.
Like any tendon, it is made up of bands of collagen fibers that are able to withstand a great deal of tension and that exert a pull created by the muscle on the attaching bone. This particular tendon begins at the base of the upper arm just above the elbow and descends to cross two joints: the humeroulnar and proximal radioulnar joints. The former is the hinging joint of the elbow between the humerus and ulna bones, whereas the latter is the uppermost of the two articulations between the radius and ulna bones, found just beneath the elbow.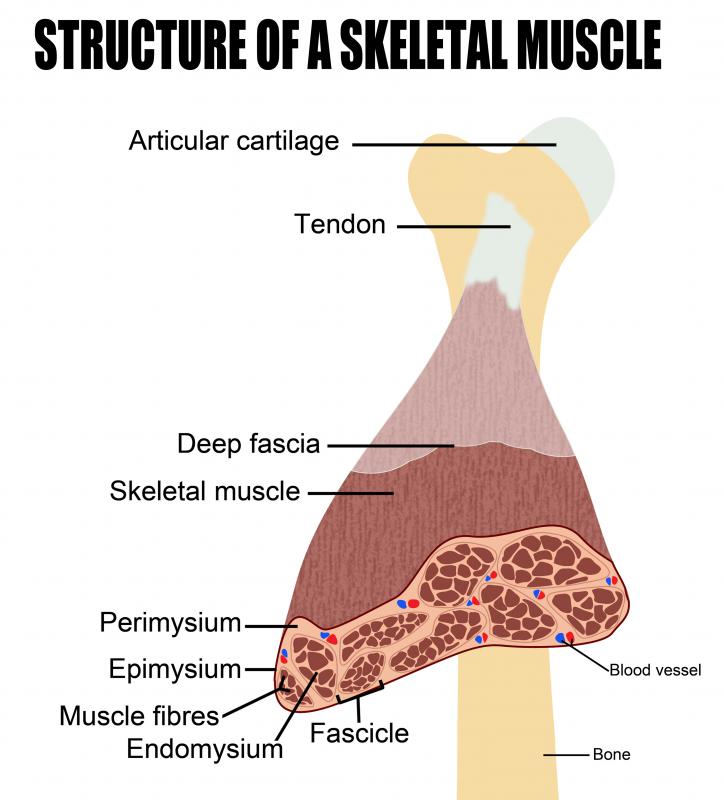 It is on the radioulnar joint that the distal biceps tendon exerts the most force. Inserting at the radial tuberosity, a rough bony eminence on the inside of the radius bone just below the elbow, the tendon helps the biceps muscle to pull on the radius during supination. Supination is the act of rotating the forearm palm-up; this is the primary function of the biceps. This muscle also assists the deeper brachioradialis muscle in flexing the humeroulnar joint or bending the elbow. As such, the distal biceps tendon is capable of acting on two joints at once, simultaneously flexing the elbow and supinating the forearm as in performing a biceps curl.