What is the Connection Between Cold Sores and Herpes?
The connection between cold sores and herpes is fairly straightforward. Cold sores are lesions around the mouth caused by the herpes simplex virus (HSV). More specifically known as herpes simplex virus 1 (HSV-1), this infection can cause the victim both pain and embarrassment. These lesions are pink and fluid-filled. Herpes lesions around the mouth are also called fever blisters and cold sores.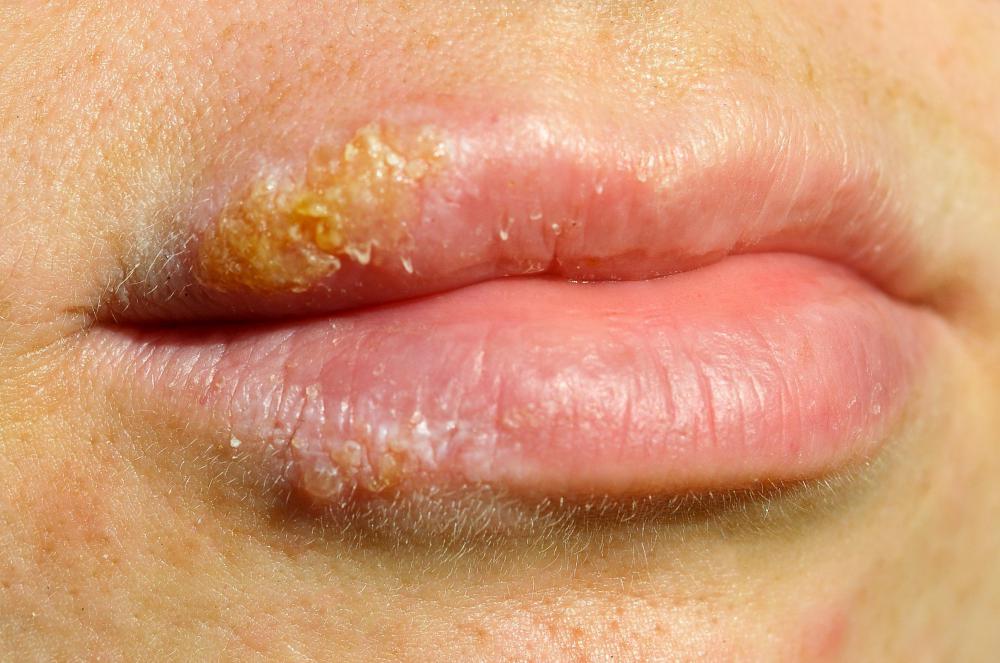 The herpes simplex virus is part of a family of viruses called Herpesviridae. These viruses cause latent infections that arbitrarily flare up into outbreaks. The lesions generally appear near the initial site where the virus entered the body. For example, if a person contracts the virus via a kiss on her mouth, the lesions would flare up near her lips.
Another common herpes virus is called HSV-2, which is often referred to as genital herpes. Regardless of whether someone is infected with HSV-1 or HSV-2, she may experience oral-type lesions around the genitals. Both strains can cause lesions in both areas.
Some victims of cold sores and herpes may only experience one breakout in a lifetime. Other herpes sufferers may get cold sores randomly, several times a year. Cold sores and herpes lesions may appear more often during particularly stressful times. A fever might also accompany a cold sore and herpes breakout.
Cold sores and herpes lesions are red or pink and may vary in size. Cold sores are often larger in diameter than genital herpes lesions. Genital herpes often appear in clusters, whereas cold sores are often singular.
Those infected with the herpes virus can often feel an impending outbreak before there are any visible symptoms. A tingling sensation generally occurs a couple of days before the first lesion arrives. Both cold sores and genital lesions appear in the form of fluid filled blisters. Within three to 15 days, the lesions crack open and eventually crust over. The areas typically heal without a scar.
Herpes is often considered a sexually transmitted disease (STD). Though it can be sexually transmitted, there are more ways for the virus to spread. As mentioned, both cold sores and herpes lesions can be spread through oral-sexual contact. Cold sores may also be contracted by kissing a person who is currently shedding the virus. Though less common, sharing forks or razors and drinking out of the same cup can transmit the herpes virus.
Although very rare, the herpes virus may spread throughout the mouth and over the face. Ocular herpes, or herpes of the eye, is very dangerous. An infected person who believes the virus is spreading should contact a physician immediately.