What is the Best Way to Clean a Yoga Mat?
People who practice yoga may discover that their preferred yoga mat has become soiled. Quite often, the culprit is dirty feet, especially if there are multiple users over the course of a day. Sweat also collects on yoga mats, which can encourage the growth of bacteria and virus if they aren't disinfected regularly. The best way to clean a yoga mat may depend on the mat owner's personal preferences when it comes to organic or chemical cleaning techniques.
Most yoga mats are not made from exotic materials, so they can often be cleaned in a conventional washing machine. The manufacturers often include instructions on how to clean the mat using commercial washing machines and cleaning agents. People who own a standard rubberized or polyvinyl plastic yoga mat should be able to load it into a washing machine, add a very mild detergent, and allow it to run on the cold water/delicates cycle. Thoroughly rinsing off all of the detergent residue is essential, since it can make the mat very slippery. The mat should be air dried on a hanger for 24 to 48 hours.
Another way to clean a yoga mat is to use special wipes designed specifically for that purpose. Some yoga enthusiasts use over-sized wipes that contain a mixture of a disinfectant and essential oils such as lavender. These wipes can be carried in a gym bag so that they are always available. To use the wipes, a person can lay the mat flat and begin wiping from one end to the other, either before or after a yoga session. He or she should allow a few minutes for the disinfectant to evaporate, then use or store the mat. A more thorough cleaning may be required periodically, but the wipes should keep the mat sanitary enough for use.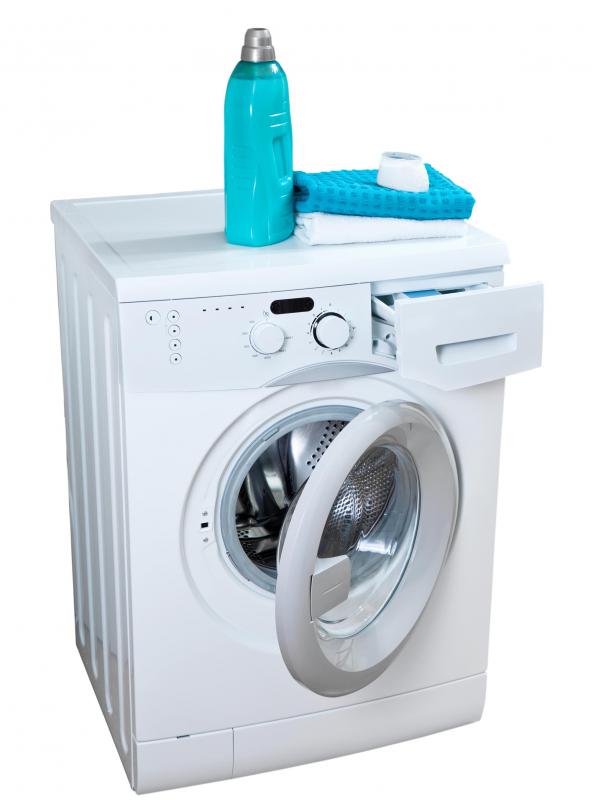 Some people who prefer organic cleaning methods suggest using a spray containing water and tea tree oil to clean their yoga mat after each session. Tea tree oil works as a natural disinfectant, and the water will not damage the surface of the mat as harsher chemicals might over time. If a more thorough cleaning is necessary, the yoga mat can be submerged in a tub containing naturally mild detergents and then rinsed several times in clean water. It can be dried by placing it on a large terrycloth towel and rolling them together. Standing on the rolled mat should force out more water. When the towel has absorbed most of the excess water, the mat can be hung up to air dry for at least a day.