What is the Astigmatism Axis?
The astigmatism axis describes the orientation of an eye's astigmatism relative to a horizontal axis across the center of the eye. It is used on prescriptions for corrective lenses to indicate the location of the correction for astigmatism. This definition of the astigmatism axis applies to regular astigmatism, but irregular astigmatism may have multiple axes or an axis that is not perpendicular, so it is not accurately described by the axis number on a prescription.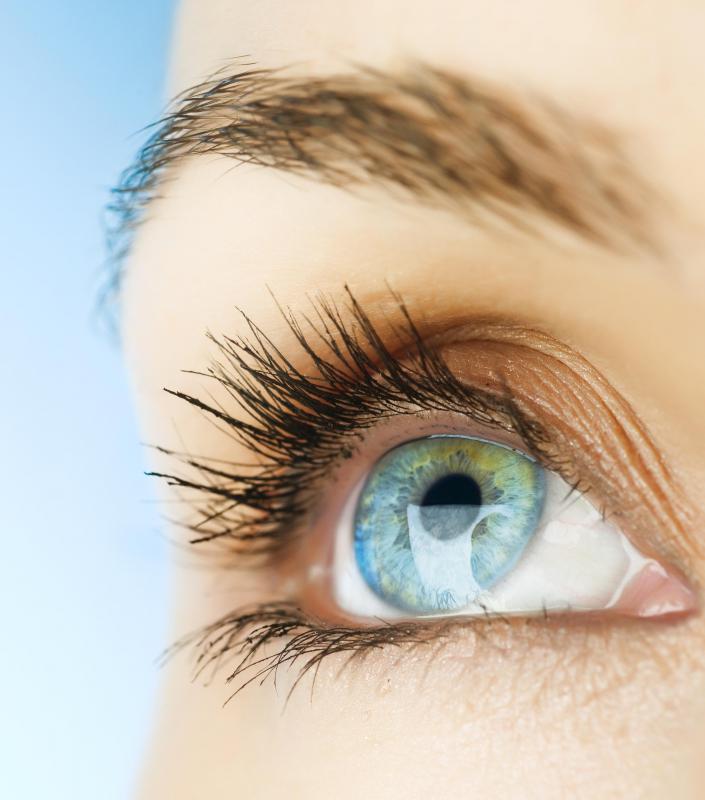 Astigmatism is caused by an abnormally-shaped cornea, which is the surface of the eyeball. A normal cornea has a spherical shape, but in an eye with astigmatism, the cornea is oval or oblong. An oblong shape has a steeper curvature in one direction than in the other, which causes light to focus differently in an eye with astigmatism. Normally-shaped eyes focus light on a single point at the back of the eye, but astigmatic eyes focus in two planes that are perpendicular to one another. The eye tries to focus at different distances in each plane, causing blurry vision.
The two planes in astigmatism may be vertical and horizontal, but they may also be oriented at an angle. The astigmatism axis describes this angle using a number between 0 and 180°. If the axes are vertical and horizontal, the two planes are at 90 and 180°. In regular astigmatism, the planes are always separated by 90°.
There are two planes in astigmatism, but the axis on a prescription is only one number, so there must be a way to discern to which plane the axis number refers. This is done by determining the difference in power between the two planes. Power is measured in diopters and indicates the strength of correction required. A prescription that corrects for astigmatism contains the power correction for nearsightedness or farsightedness, but also a power labeled cyl or cylinder. The cylinder power indicates the difference in power between the two planes of astigmatism.
The astigmatism axis indicates the angle of the plane with the lower power. In the example of the planes at 90 and 180°, if the 180° plane has a lower power, then the astigmatism axis is 180. Conversely, if the 90° plane has a lower power, the axis is 90. In this way, a single number describes both the angle of the two planes and which plane has the higher corrective power.