What is the Anatomy of the Neck?
The anatomy of the neck has various anatomical structures. This includes the muscles, nerves, arteries, and veins. The neck also houses important glands and other structures, such as those related to the respiratory and digestive system.
Muscles located within the neck help support the head and allow for movement of the head and neck. Longus capitis and longus colli are two of the muscles that help accomplish movements related to turning the head and bending the neck forward and backward. Other muscles that are part of the anatomy of the neck include the anterior scalene, middle scalene, and the posterior scalene.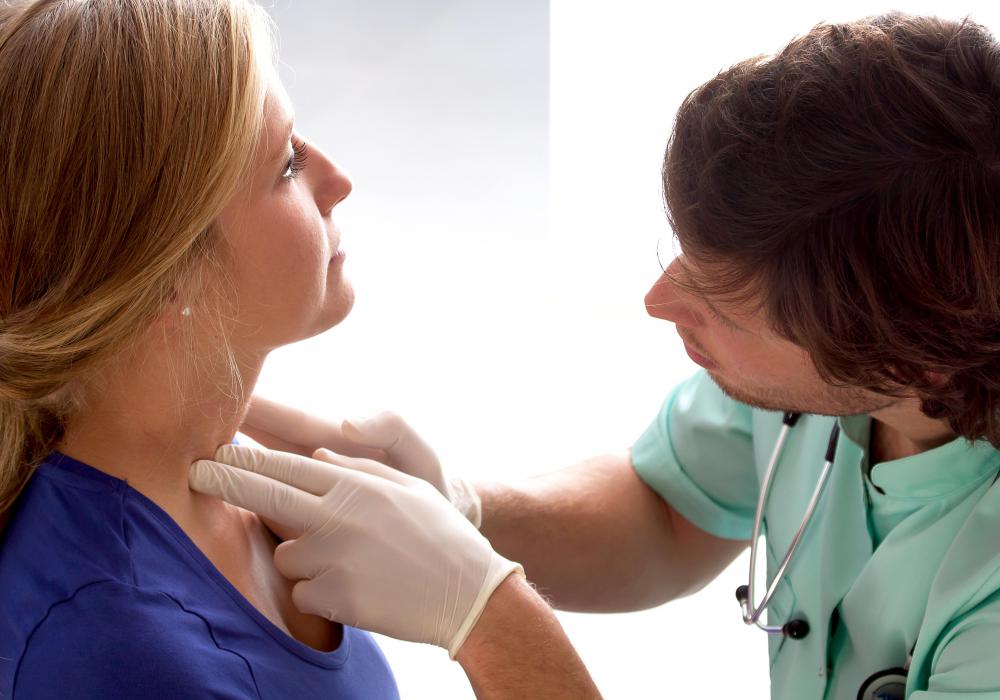 Facial expressions, movements such as chewing, and various other movements of the neck and head are controlled by the many nerves traveling through the neck. Some of these nerves, such as the facial nerve, control multiple functions. The facial nerve specifically helps with smiling, frowning, and closing the eyes. Some of the other nerves considered part of the anatomy of the neck include the trigeminal nerve and the hypoglossal nerve.
Much like the muscles and the nerves of the neck, the veins and arteries located within the anatomy of the neck serve an important purpose. They allow for the transport of blood and oxygen to and from the heart to various structures and organs of the neck and head. Veins located in the neck include the superior vena cava and the jugular vein. Examples of some of the arteries in the neck include the carotid artery and the subclavian artery.
Moving beyond the muscles, veins, and arteries, there are various glands. Three pairs of salivary glands, named the sublingual, parotid and submandibular glands, are located in the neck region and secrete saliva that helps process and breakdown food. Other glands located in the neck region include the thyroid gland, superior deep cervical glands, and the inferior deep cervical glands.
Structures within the anatomy of the neck are also integral to the proper functioning of the human body's respiratory and digestive system. This includes the pharynx, larynx, and trachea. These structures allow both breathing and swallowing to take place. The epiglottis keeps food from passing into the trachea and directs it along the digestive tract.
Other anatomical features of the neck include portions of the spine and lymphatic system. Also referred to as the cervical spine, the neck area consists of seven vertebrae. Portions of the lymphatic system, such as the lymph nodes and mucous membranes, can also be found in the neck.