What Is Strawberry Yogurt Cake?
A strawberry yogurt cake is a yogurt-based, baked dessert. Although this type of cake may include fresh strawberries, it's usually made with a fairly large container of strawberry-flavored yogurt. The flavored yogurt not only adds a strawberry taste to the cake, but also helps create a moist texture. Strawberry yogurt cakes may be in sheet, loaf or layer form.
The layer cakes may have a filling, as well as the topping, made of whipped cream mixed with strawberry yogurt. Fresh strawberries, usually hulled and cut in half, may decorate the top and/or sides of a layered strawberry yogurt cake. Sheet and loaf cakes may also have a whipped cream and strawberry yogurt topping or they may feature a vanilla or almond flavored buttercream frosting. This frosting, made with powdered, or icing, sugar, butter, milk and a flavoring such as vanilla or almond extract, may have a few drops of red food coloring added to create a pink tint.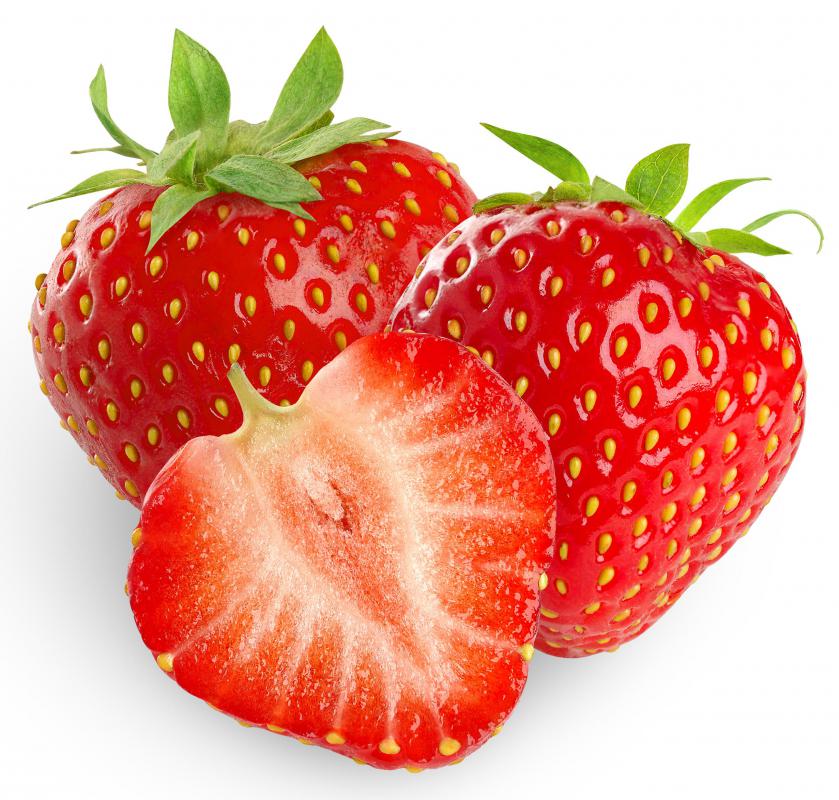 Basically, strawberry yogurt cakes are made as a white cake from flour, baking powder, salt, butter and white granulated sugar. The dry ingredients are blended together in a bowl. In another bowl, the sugar is blended, or creamed, into the softened butter, then the strawberry yogurt, as well as vanilla or almond extract and beaten eggs, is stirred into the butter and sugar mixture. Amounts of the blended dry ingredients are mixed gradually into the yogurt mixture until a smooth, well-mixed batter results. After baking in a glass or metal pan, a strawberry yogurt cake is typically moist with a crackly, golden brown top crust.
Some bakers like to press in fresh hulled and halved strawberries on the top of the batter before baking the cake. Others prefer to stir chopped strawberries into the yogurt before mixing it into the cake batter. While a strawberry yogurt cake tends to have a sweet, fruity aroma during baking, the addition of fresh berries, either in the batter or on top of it, can intensify the fragrance. If the cake isn't going to be frosted, it may be served warm.
Whether warm or cold, a strawberry yogurt cake is often topped with vanilla ice cream or whipped cream. Some bakers like to dust the top with powdered sugar. If fresh strawberries weren't used in or on top of the batter, a few sliced strawberries are often used to garnish the cake.