What is Photosensitivity?
Photosensitivity translates as sensitivity to the light from the sun. Yet most people are sensitive to the sun to a certain degree and will have predictable reactions to exposure like sunburn, premature aging of the skin if sun exposure is frequent, skin damage and increased risk for developing skin cancer. The photosensitive person risks these reactions too, but may have skin overreactions when receiving even minimal sunlight exposure.
The most telling symptom of photosensitivity is development of a rash when people have sun exposure. The rash may have blisters or scales, and might be raised. For some people this rash is extremely uncomfortable and will cause irritating burning sensations or itchiness. Sometimes people with this condition get the rash in all circumstances and other times they will only get the rash occasionally. Rash may occur whether or not sunscreen is worn, and sunscreen may sometimes exacerbate it, if it contains fragrances or harsh chemicals.
There are many reasons why people might have photosensitivity. It may be caused by a variety of medications, like a number of antibiotics, diuretics and some antidepressants. It may be thus be transient and occur only if or while these drugs are used, and risk for the condition with a drug doesn't necessarily mean a person will become photosensitive. Some autoimmune diseases like lupus create photosensitivity, and small amounts of sun exposure results in serious skin problems. Another cause is exposure or allergy to certain chemicals in skin products or things like detergents.
Due to the number of potential causes of photosensitivity, treatment in each case can be different. Those taking a medication causing it could discuss with doctors if alternatives exist that could treat a condition without creating this problem. Medications like antibiotics are often only taken for a short duration and sun exposure can just be avoided while the medication is given. Obviously avoidance of any chemicals that irritate the skin can be part of treatment too. Under certain circumstances, the condition really can't be treated, and the best bet is to avoid sun exposure; this is certainly true for some of the people who have lupus.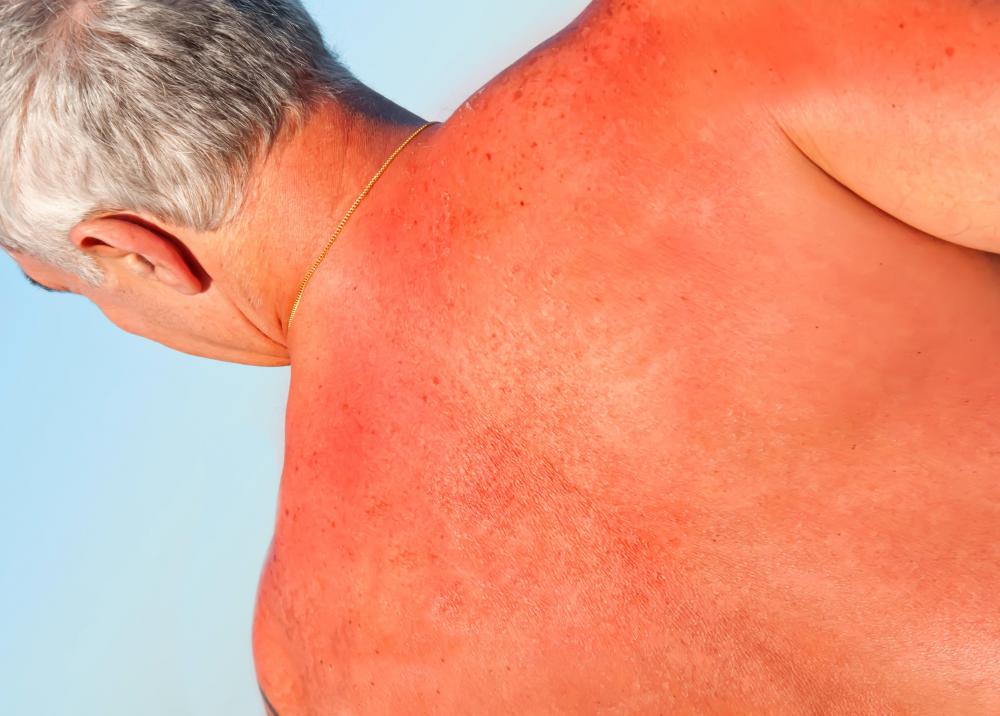 There are a few medicinal treatments that might lessen photosensitive reactions and these include prescription beta-carotene. Others may be helped with medications like corticosteroids. When rash occurs, corticosteroid creams or antihistamine creams could reduce discomfort. Taking medications like diphenhydramine (Benadryl®) at night could help people ignore itching and get some sleep too, and may help resolve the rash sooner.
Should people note development of rash after sunlight exposure, they may want to speak with their doctors, particularly if the rash occurs more than once. It could be important to determine cause of photosensitivity, since it can be a symptom of serious autoimmune diseases like lupus. Getting a doctor's advice on best possible care and treatment for and existent rash may also prove helpful.
People who take some antidepressants and antibiotics may experience a heightened degree of photosensitivity.

There are many potential causes of photosensitivity, so possible treatments for it should be discussed with a doctor.

A person who is photosensitive typically experiences a heightened reaction to sun exposure.

Patients with lupus may have photosensitive skin and will develop a rash after exposure to sunlight.

Photosensitivity may mean an increased risk of getting sunburned.

People with photosensitivity should not spend a great deal of time on a beach without protection.

Children should always wear sunscreen to protect their sensitive skin from damage during outdoor activities.