A nevus spilus, sometimes known as a zosteriform lentiginous nevus or speckled lentiginous nevus, is an area of skin which appears brown in color, with darker speckles scattered across it. The size of the nevus can vary and the speckles may be raised bumps or flat spots. A nevus spilus can be present on the skin of any part of the body, and is usually first noticed at birth or early in life. These skin lesions are not cancerous and may simply be left alone and monitored for any signs of change. Monitoring is carried out as a precaution because, very rarely, cells inside a nevus spilus may transform and a cancer known as malignant melanoma may develop.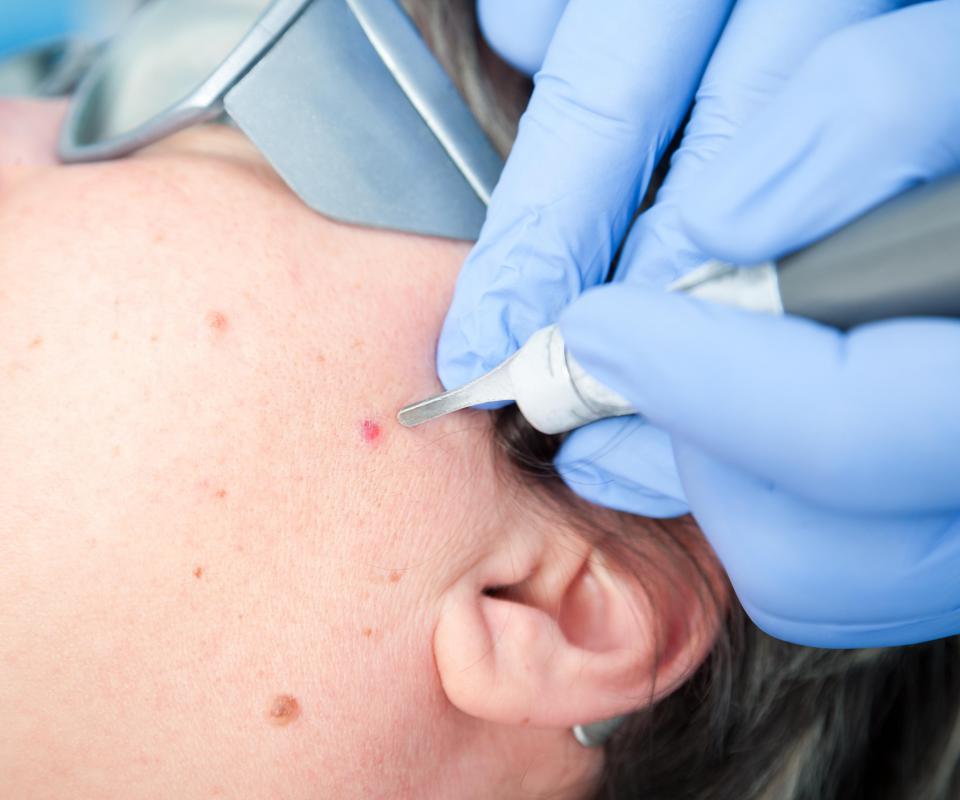 It is thought that there are two different types of nevus spilus. In what is referred to as the macular type, the speckles are distributed at fairly regular intervals across the nevus and are very flat. What is known as the papular type of lesion has speckles which consist of raised lumps, and these are arranged more randomly across the nevus. Although it is still a rare occurrence, the macular type of nevus is thought to be more often associated with malignant melanoma development.
Nevus spilus may occur in association with certain medical disorders, such as FACES syndrome. In FACES syndrome, as well as zosteriform lentiginous nevi on the skin, there are abnormalities of the eyes and facial features, together with loss of appetite, wasting, weight loss and fatigue. Phakomatosis pigmentokeratotica is a syndrome in which there is wasting of one side of the body, together with excessive sweating, abnormal sensation and muscle weakness. In phakomatosis pigmentokeratotica, a nevus spilus develops in association with another lesion known as a sebaceous nevus. The syndrome is very rare, but there is a risk of malignant change occurring in the skin lesion.
Normally, there are no nevus spilus symptoms, although a person with a large skin lesion may be concerned about its appearance being unsightly. There may also be anxiety about the possibility of malignant melanoma developing, particularly in the case of a nevus located in a part of the body where it is difficult to see. Any suspicion of malignant changes could make removal necessary. Nevus spilus treatment is not without its problems, because surgery tends to leave scarring and the lesion may recur. Therapies using lasers to remove or fade the nevus do not always lead to a satisfactory outcome.