What is Medical Oncology?
Oncology is a specialty within the field of medicine that focuses on the study and treatment of all malignant tumors or cancer. There are several sub-specialties that fall under the category of oncology. Medical oncology is such a category in which drugs, chemotherapy, and other related therapies — like biological response modifiers and hormone therapies — are used to treat cancer.
A doctor who practices oncology is called an oncologist. These medical professionals specialize in studying, diagnosing, and treating cancer. An oncologist may work in community or university hospitals and medical centers, in private or group practices, or for research organizations.
In order to enter the field of medical oncology, one must first graduate from an accredited medical school. To become board certified in oncology, the physician must then enroll in a residency program accredited through the American Council for Graduate Medical Education (ACGME). After successfully completing this graduate education, she must pass an exam in order to be awarded a board certification in oncology.
From there, the oncologist may select from several sub-specialties of oncology. Three main sub-categories of oncology are surgical, radiation, and medical oncology. Other sub-specialties include gynecological oncology, medical oncology, pediatric oncology, and hematology — which focuses on treating cancer of the blood and related tissues.
When an oncologist chooses to specialize in medical oncology, she must complete additional education and training, as well as pass a certification exam administered by the American Board of Internal Medicine (ABIM). Primary content on which the candidate may be tested includes pharmacology, cancer biology, and clinical research methodology, as well as supportive care and ethics. Specific cancers with which the oncologist may wish to be familiar are hematologic malignancies, as well as breast, gastroenterologic, thoracic, genitourinary, gynecological, and other solid tumors.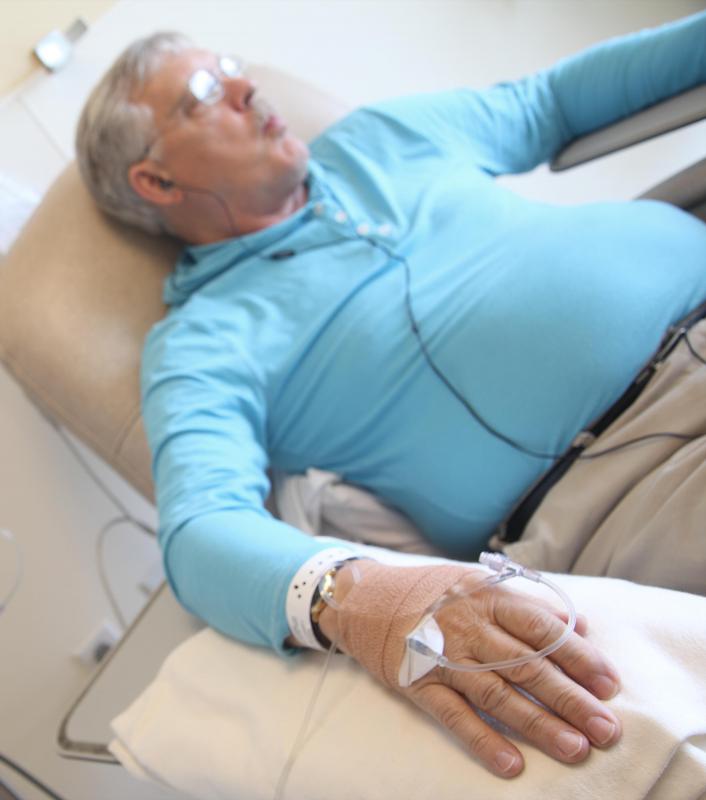 On the exam, medical oncologist candidates may encounter a wide range of topics, such as general internal medicine as it pertains to the practice of medical oncology. Another area that may be featured on the test is the diagnosis and staging of malignancies, including genetic markers. Treatment options — including chemotherapy, hormonal therapies, radiation therapy, and biological response modifiers — may also be part of the exam.
Once the medical oncologist is certified and practicing, she will typically be focused on helping the patient manage his cancer through the use of medications. Chemotherapy, a drug regimen that uses chemicals to kill rapidly-growing, malignant cells in the body, is one of the most prescribed therapies in the field of medical oncology. Biological response modifiers, which are substances that stimulate the body's natural response to diseases such as cancer, are also used frequently to treat disease. Hormone therapies may also be utilized in the treatment of various cancers.