What is Lemongrass Aromatherapy Oil?
Lemongrass aromatherapy oil is a scented product that can be used in a number of different ways for aromatherapeutic benefits. The oil can be heated in a glass or ceramic aromatherapy diffuser, on a lamp ring, or as an addition to potpourri. Many people find that lemongrass helps to lift the spirits and help to create a sense of peace and calm.
Lemongrass is sometimes added to perfumes and body products, which can also be used for aromatherapeutic purposes. Sometimes lemongrass aromatherapy oil is also put into pulse point lotions. These lotions include concentrated amounts of the lemongrass aromatherapy oil and are applied to the pulse points in the body, such as the wrists and areas on the neck. The essential oil of lemongrass can cause skin sensitivity in some people and should be used with caution.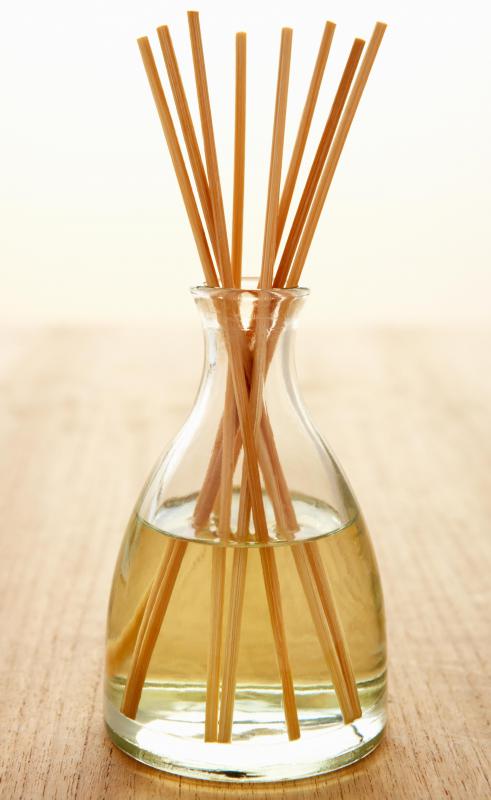 The benefits of lemongrass aromatherapy oil can also be enjoyed when the essential oil of lemongrass is added to a candle. While the candle is burned, the scent will diffuse into the surrounding air and will scent the space. For those who enjoy burning candles and find them calming, candles made with lemongrass aromatherapy oil are a great choice.
The oil can also simply be diffused by adding it to a glass jar and placing five to seven diffusing sticks in the oil. The sticks, which are normally made of a porous kind of wood, should extend up and out of the glass jar. The sticks should be at least one and a half times the height of the jar. Some aromatherapy and candle companies sell sets that include the oil, the jar, and the diffuser sticks. This sort of diffuser, however, can easily be made at home. Furthermore, the oil and sticks can be replaced as needed.
In this sort of diffuser, the lemongrass aromatherapy oil is wicked up through the diffuser sticks. As air moves through the room and as the oil begins to dry from the sticks, the scent fills the room. Many people enjoy using this kind of diffuser because, unlike clay or glass diffusers and candles, it is flameless. Most clay and glass diffusers work by having a small votive or tea light placed under the well where the oil is placed. When used cautiously, these sorts of diffusers are lovely, but they can pose a fire hazard, which is why some people prefer to use this alternative kind of diffuser.