What is Involved in Amputation Rehabilitation?
Amputation rehabilitation involves teaching patients to care for their residual limbs, preparing the limb for a prosthesis, and providing assistance with developing balance and endurance to compensate for the loss of a limb. A physical therapist may supervise this process, and patients can also work with their surgeons, as well as mental health professionals, if they experience psychological distress in association with the amputation. The goal of amputation rehabilitation is to help patients retain mobility and develop skills to help them manage the amputation for life.
In the immediate wake of surgery, amputation rehabilitation is focused on preventing infection and preparing the limb for a prosthetic. This includes using desensitization techniques and treatments for phantom limb pain so patients can tolerate pressure on the stump, as well as stretching the limb to prevent contractures that might interfere with the use of a prosthesis. Patients learn to use bandages to compress the limb. This will prevent swelling and start shaping the stump to accommodate a prosthesis.
Patients recovering from surgery can be at risk of respiratory infections and blood clots. A respiratory therapist will work with the amputee on breathing exercises to keep the airways clear and strong. As soon as possible, physical therapy will begin, with the therapist encouraging the patient to walk to promote bloodflow and start developing strength. Using a prosthesis requires more energy than using the original limb, and amputees need to develop stamina and strength. They also need to relearn balancing skills, as the amputation can throw balance off and make people more prone to falls and injuries.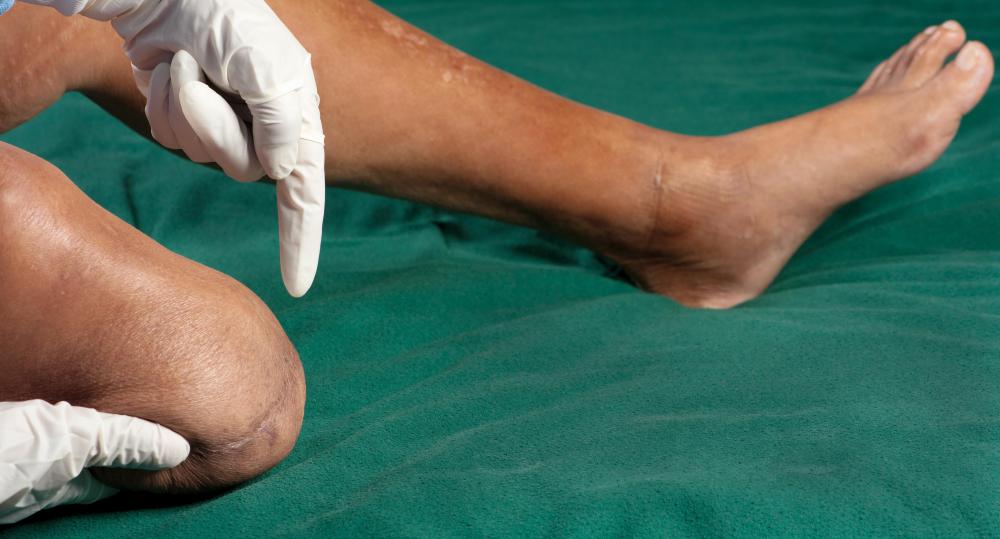 Amputation rehabilitation may involve a temporary prosthesis as early as possible to get patients accustomed to using prosthetic limbs for mobility and other activities. This device will be periodically adjusted as the stump changes shape and size. Once the residual limb is stabilized, fitting for a permanent prosthesis can take place. The patient will also be taught about proper skin care, as prosthetic use can damage the skin and expose patients to the risks of pain and infection. Skin care includes wrapping the residual limb properly, as well as applying skin care products to keep the stump clean and dry.
As patients proceed with amputation rehabilitation, a vocational therapist will also be involved in care. The vocational therapist can assess the patient's ability to work and provide occupational training to allow the amputee to return to work. For some working environments, patients may not need special training, while in other cases, patients may need to learn counterbalancing techniques and may undergo training with specialized prostheses to achieve high levels of control so they can perform tasks safely.