What is Interstitial Lung Disease?
Interstitial lung disease is a condition in which the lining of a person's lungs gradually become inflamed and scarred, affecting breathing and putting the individual at risk of developing high blood pressure and serious heart problems. The disease can afflict anyone, though it is most prevalent in adults over 50 and those who work with toxic substances, such as asbestos. There is no cure for this condition, but its progress may be slowed by taking prescription medication and making healthy lifestyle choices. An individual who believes he or she is experiencing symptoms of lung disease, such as shortness of breath, wheezing, and coughing, should seek the guidance of a licensed physician to determine the most appropriate treatment and management plan.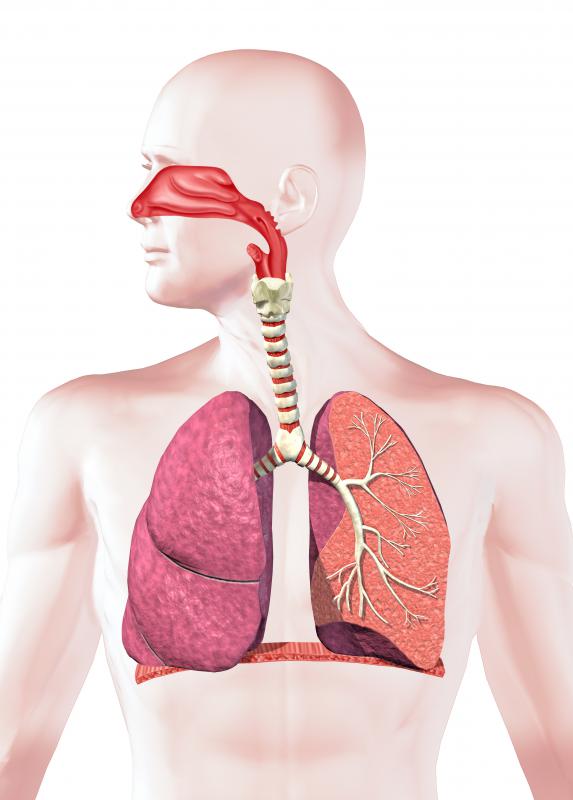 There are several different types of interstitial lung disease, though most have very similar symptoms and potential complications. The most common symptom of lung disease is shortness of breath. Individuals in the later stages of the disease may have difficulty breathing during routine daily tasks, such as walking short distances, preparing meals, or having a conversation. Some people experience coughing fits or significant wheezing while engaging in activity. People with lung disease often suffer from oxygen deficiency in the bloodstream, which can lead to an array of health problems, including hypertension and heart failure.
In many cases, the cause of interstitial lung disease is unknown. Doctors and researchers have determined a number of different possible causes of interstitial lung disease. People are at risk if they live and work around certain harmful substances, including fine silicates, asbestos, animal waste, and grain dust. When airborne particles from such substances are inhaled, they attach to the lining of the lungs and cause significant irritation and scarring over time. Bacterial infections, and the drugs used to treat them, can also put people at risk of developing lung problems. Finally, radiation therapy and drugs used in cancer treatment can lead to permanent scarring of lung tissue.
There are several treatment options available to people suffering from interstitial lung disease. Doctors commonly prescribe oral medications designed to soothe lung tissue and delay the progress of scarring. Many people receive oxygen therapy to provide the lungs with clean air and lower blood pressure. Individuals can also find relief by staying away from airborne toxins and chemical fumes, quitting smoking, and maintaining a healthy diet rich in antioxidants. Engaging in daily exercise and getting adequate sleep can also help restore lung functioning.