What Is Dynamic Simulation?
Dynamic simulation is strategy that calls for utilizing a software program in order to control the function of a computer system. This approach makes it possible to anticipate and plan for any type of event that may take place in advance, effectively using the simulation to determine how the system should respond and providing instructions to ensure these correct steps are taken. As part of the dynamic simulation, the implementation of these orders or commands is logically followed through as part of the process, making it easy to determine if the desired outcome is achieved or if the orders will ultimately create new issues that must be addressed and corrected before actually making changes to the programming.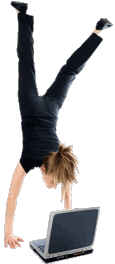 One of the chief benefits of dynamic simulation is the ability to create scenarios and follow them through to a logical conclusion without making any changes to current software protocols. From this perspective, the simulation software used for this task can save a great deal of time and money. Ideas about how to alter or adapt software in some manner can be used during the simulation, allowing programmers to discover what happens to the remainder of the software code as it executes the changes. If the proposed update does in fact perform to expectations and does not create anomalies later in the programming, then it is usually safe to implement the change with the live software. Should the simulation uncover some unanticipated issues, the simulation can be refined to address the problems and ultimately arrive at the best possible solution.
Companies can make use of dynamic simulation to project just about any change in the software used as part of the business operation. Using this approach can help to identify potential issues with establishing protocols that allow different databases to share information for various purposes, as well as determine how the changes would help the business to make better use of time and other resources. By getting an idea of what would happen if a certain change were implemented before actually making any changes, it is possible to avoid significant issues that would otherwise not be detected until it was too late.
While dynamic simulation can be managed in-house using specially designed simulation software, it is not unusual for business consultants to also make use of this approach when working on projects for various customers. Small companies that outsource information technology functions can also often receive this option with firms who manage their systems. When used effectively, the cost savings alone can make the use of dynamic simulation worth the time and effort.