What is Dangerously High Blood Pressure?
Dangerously high blood pressure, also known as malignant hypertension, is a fairly rare condition where blood pressure levels rapidly elevate to the point where an affected person is at serious risk for internal organ damage or even death. If not treated promptly, it can cause a variety of symptoms, ranging from mild issues such as headache, nausea, and shortness of breath, to much more severe ones like seizures, coma, or heart attack. The causes of this condition are not completely understood, and though it can affect anyone, certain groups are at higher risk. Treatment typically involves hospitalization to get pressure levels under control, with continued use of medication afterward to keep them from becoming too high again.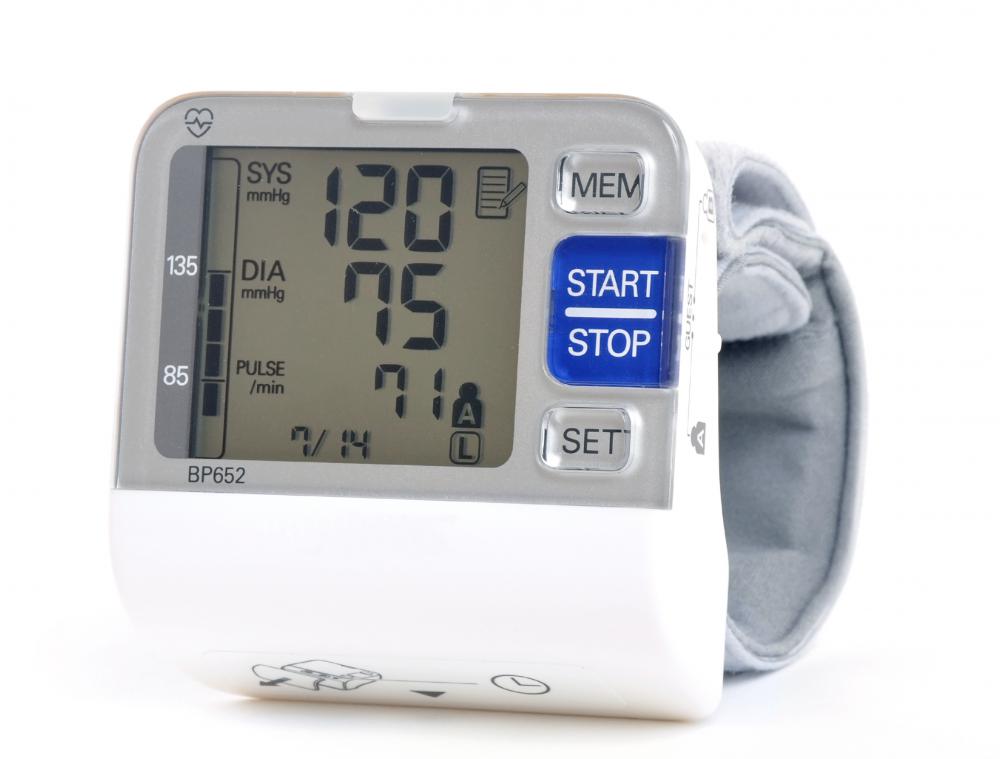 When a person develops dangerously high blood pressure, one or both of his or her measurements for blood pressure — systolic or diastolic — becomes excessively high. Though some medical professionals may have slightly different views on what qualifies, typically a systolic over 170 or 180 or a diastolic over 100 or 110 fall in this range. For some, the number goes much higher, sometimes over 200/140.
While those with mild or moderate high blood pressure may not notice symptoms, dangerously high levels can often be accompanied by other physical effects. Patients may experience coughing and shortness of breath, chest pain, and nausea or vomiting. They may get headaches, blurred vision, or feel weakness or numbness in their bodies. In severe cases or if the condition is not treated quickly, they can suffer from seizures or go into a coma, have a heart attack or stroke, or suffer from kidney failure.
Only about 1% of patients develop malignant hypertension, but certain patients seem to be at higher risk than others. Young adults, particularly those of African heritage, are often affected. Pregnant women with certain complications can also be at risk, as can those with certain kidney disorders.
If diagnosed with dangerously high blood pressure, a patient will typically be hospitalized immediately to bring the condition under control. The patient will also likely be assessed for any damage that may have occurred to his or her internal organs, particularly the kidneys, heart, and brain. Quick treatment can help minimize damage, but some patients may have complications if the problem has been going on for a period of time. After leaving the hospital, most patients will need to stay on medication to control their blood pressure.