Conveyancing refers both the transfer of real property ownership from one owner to another and the granting of an encumbrance on property, such as a mortgage or a lien. The process can be very complicated, and varies by jurisdiction. Each conveyance transaction follows the same basic steps; obtaining a written agreement between the parties, an escrow period when certain conditions are met, and a closing whereby legal ownership of the property is transferred.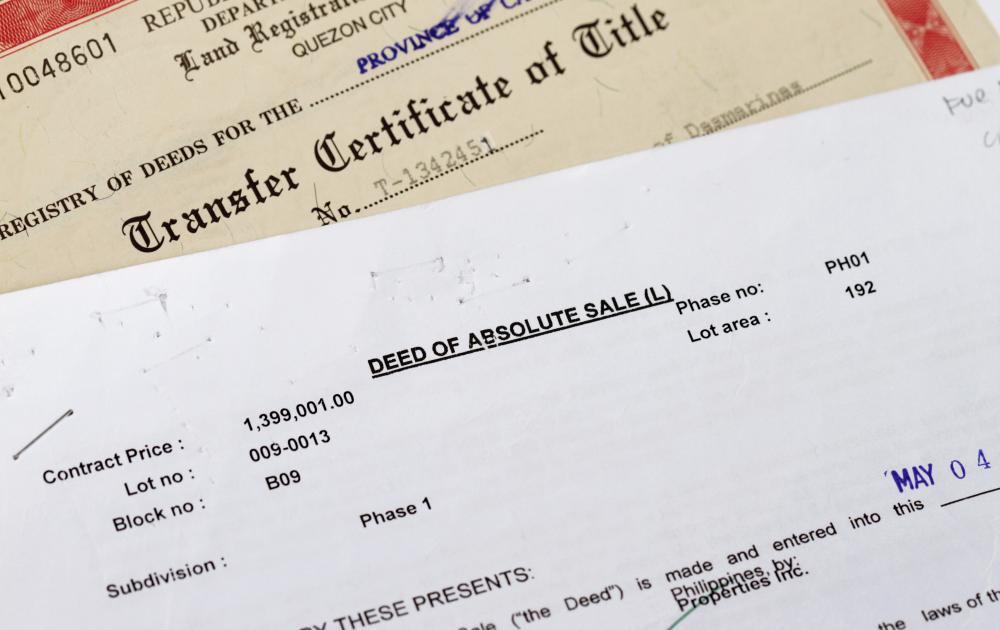 Every country has its own conveyance system and rules, and states also have varying regulations. Each system is designed to ensure that the buyer obtains both legal title to the land and all the rights that go with the land. If there are restrictions or exceptions to those rights, the buyer will be made aware of them.
The first step of a conveyance transaction is the submission of both a written contract and an earnest money payment by an interested buyer. Offers are normally prepared by a real estate agent on behalf of the buyer. After the buyer and seller agree to the price and terms of the sale, the real estate contract is ratified and the earnest money is deposited into an escrow account.
Next follows the escrow period, to allow the buyer and seller to meet certain conditions set forth in the contract. These conditions apply to both buyer and seller, typically include an appraisal of the property, a title search, a property inspection, financing, and sometimes the completion of another real estate sale. If all escrow conditions are not met, the buyer may typically withdraw his offer without penalty, and nullify the contract. The title search is perhaps the most important condition in the escrow period, as this determines whether or not the seller has legal rights to the property.
At the end of the escrow period, when all of the conditions have been met, the final step of conveyancing can occur. This step is sometimes called the closing or settlement, and it completes the transfer of ownership to the buyer. At this time, monies and papers change hands and the buyer becomes the legal owner of the property. Standard papers at a conveyance include the deed, certified checks, mortgage, property tax documents, title insurance, home insurance, and a promissory note.
Following the conveyancing transaction, the new deed is recorded. This record of the transfer of ownership from the seller to the buyer becomes part of the public record. The deed will show up in subsequent title searches regarding the property.
The entire conveyancing process can be performed by the buyer and seller themselves. It is more common, however, that professionals are employed to handle the conveyancing because it can be a very complex process. Professionals that might be involved include lawyers, solicitors, real estate agents, mortgage brokers, and conveyancing experts.