What Is Cake Mix Coffee Cake?
Cake mix coffee cake is a mix of ingredients such as flour, sugar, and cinnamon, used for making a sweet breakfast treat. Commonly found on store shelves, the pre-packaged cake mix takes little time to prepare. Only a few other ingredients, such as butter and milk, are typically required to make a store-bought cake mix coffee cake. The coffee cake is often enjoyed with a morning or mid-day cup of coffee. A sweet and crumbly texture is what gives coffee cake its distinctive flavor.
Although coffee cake may be homemade from scratch, many people choose a cake mix coffee cake for convenience. Since the flavorings, such as cinnamon, ground nutmeg and pecans, may be in the mix, all that is needed to bake the cake is generally milk and eggs. Store bought cake mix coffee cake may also come packaged with a disposable baking pan.
While most cakes are layered and frosted, coffee cake traditionally does not have icing. Instead, most coffee cakes are topped with a crumbly sweet mixture known as streusel. A cake mix coffee cake may be made with a golden yellow cake or chocolate. Some coffee cake mixes also include a can of fruit filling to be blended into the mixture before baking.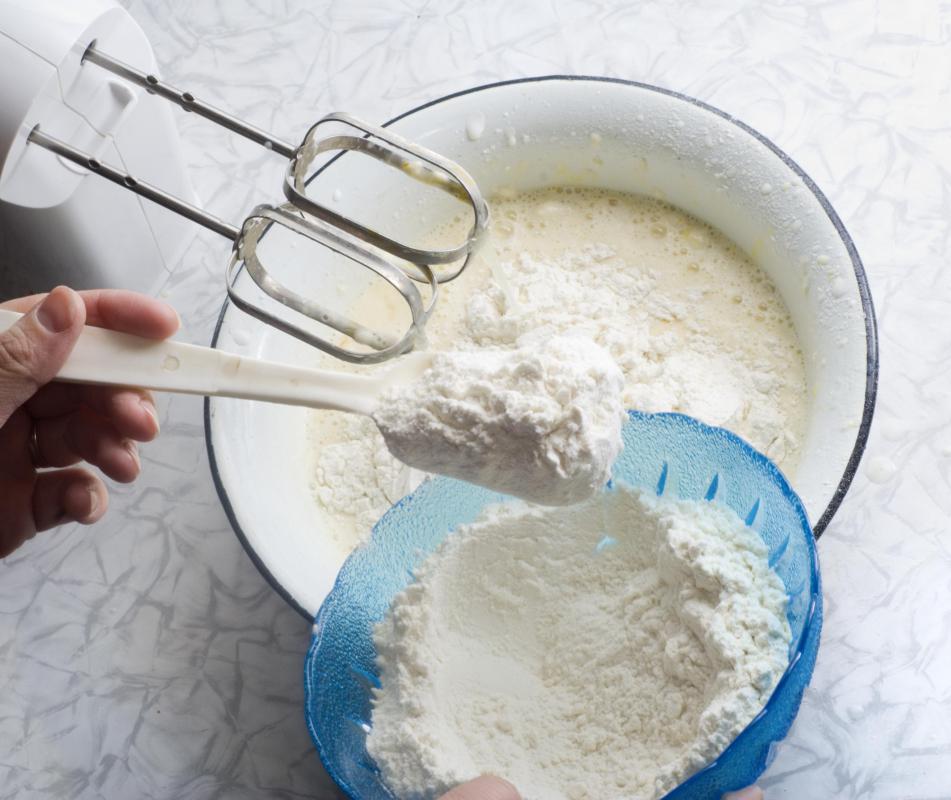 The origin of coffee cake is not clear, although most believe it is an American recipe. It is often served at cafes and breakfast eateries, with coffee, tea, or hot cocoa. Some prefer coffee cake with a hot beverage for a light brunch, or for an afternoon coffee break.
Other than white flour and brown sugar, cake mix coffee cake often includes malted wheat flour and baking powder. In addition, there are variations to the traditional coffee cake mix. For instance, sour cream coffee cake mix is a moister variety. Maple nut coffee cake mix is another variety that can be made with walnut or pecans. In addition, maple flavoring will be added to the cake mix.
Some people prefer to add a homemade glaze to a cake mix coffee cake. This can easily be done with simple ingredients, such as milk, powdered or confectioners' sugar, and butter. The glaze ingredients may be heated in a microwave and drizzled over the coffee cake while still warm.
A coffee cake mix is typically prepared in a large mixing bowl, either made of plastic or metal. Most coffee cakes are baked in a round, rectangular or Bundt® cake pan. The cake will be baked in the oven for under an hour, according to the oven temperature setting.