What is an Enlarged Ovary?
An enlarged ovary is a condition in which one of the female reproductive organs that produces the ova, or eggs, grows beyond its normal size. Several different diseases and conditions can cause ovaries to get larger. Most of the time, an enlarged ovary is a symptom of ovarian cysts, polycystic ovary syndrome, or ovarian cancer. Doctors usually check the shape and size of the ovaries during a woman's yearly pelvic examination.
Ovarian cysts are sacs filled with fluid that can form inside or outside the ovaries. Most ovarian cysts are not harmful, and they go away on their own in a few months without treatment. Some ovarian cysts can cause symptoms, such as pelvic pain, nausea, frequent urination, breast tenderness, and irregular menstrual period. This usually happens with larger cysts and cysts that rupture.
Most cysts are the result of an egg that does not release as normal. If the follicle holding the egg does not rupture and release the egg, for example, an ovarian cyst can grow. A corpus luteum cysts forms when fluid gets trapped inside the follicle that releases the egg.
Some rare types of cysts can cause additional complications. Dermoid cysts form from human eggs and can contain hair, teeth, or skin. These types of cysts can grow very large, causing an enlarged ovary to move out of position. Cystadenomas are ovarian cysts that can grow very large and lead to twisting of the ovary. Endometriomas are cysts that form in women with endometriosis, a condition that causes uterine cells to grow outside of the uterus.
Since ovarian cysts often go away on their own, sometimes no treatment is needed. Birth control pills can reduce the risk of developing new cysts. If a cyst is large or causes pain or other symptoms, a doctor may remove it surgically or remove the entire affected ovary.
Polycystic ovary syndrome (PCOS) is a condition that causes an enlarged ovary due to many small cysts that form on or in the ovarian tissue. This condition can also cause irregular menstrual cycles and elevated levels of male hormones, which can cause excess hair, acne, and balding. PCOS can also cause infertility. Women with PCOS are more likely to be obese and have certain other conditions, such as type 2 diabetes, high blood pressure, sleep apnea, cholesterol problems, and endometrial cancer.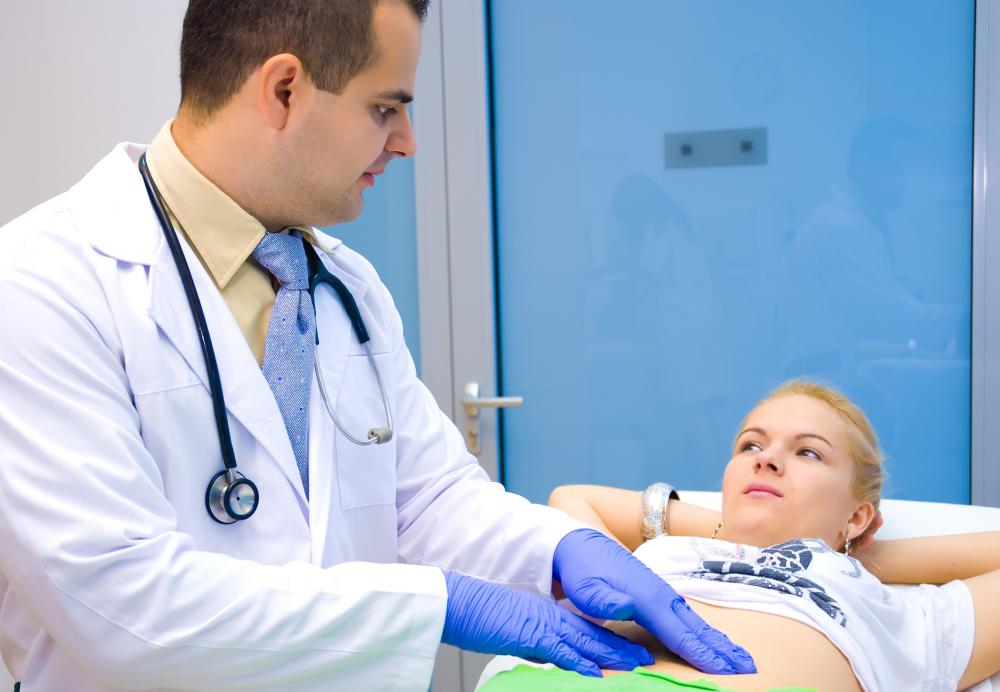 Treatment for polycystic ovary syndrome usually consists of regular checkups to monitor weight, cholesterol, and blood pressure. Women with PCOS should focus on maintaining a healthy weight, eating a nutritious diet, and getting regular exercise. Some women with PCOS take low-dose birth control pills to decrease the production of male hormones and to regulate their menstrual cycles.
Some women with an enlarged ovary may have ovarian cancer. Enlarged ovaries in women over 50 are taken very seriously because the ovaries usually shrink during menopause, and ovarian cancer is much more common in patients in their 50s and 60s. Ovarian cancer often produces no symptoms, and the only indication may be an enlarged or misshapen ovary that a doctor feels during a pelvic examination.
Ovarian cancer is usually diagnosed by an ultrasound or blood tests. Most women diagnosed with ovarian cancer will have surgery to remove the cancerous tissue and cysts. If the cancer has spread to other parts of the body, doctors use chemotherapy and radiation treatment to kill cancerous cells and prevent the cancer from spreading further.