What is an Electrolyte Test?
An electrolyte test typically measures levels of potassium, sodium, bicarbonate, and chloride in the blood. These electrolytes, especially sodium, can play an important role in regulating the body's fluid levels. Chloride typically helps balance acid levels in the blood, and bicarbonate helps to balance acid levels in the body's tissues. Potassium usually helps stabilize heart rate, and can also contribute generally to helping the body maintain an appropriate level of muscle strength. A number of medical conditions can cause electrolyte imbalance, so an electrolyte test is generally ordered when a patient is suffering from such a disease, or when the patient is experiencing symptoms that may indicate and electrolyte imbalance.
Measurement of electrolyte levels within the body is generally performed as part of a blood test. Most blood tests include an electrolyte test, since physicians are often concerned that a patient's symptoms may be, at least in part, due to electrolyte imbalance. Most people seeking medical care receive an electrolyte test, so that the physician can confirm that an imbalance in electrolyte levels is not the cause of their symptoms. An electrolyte test is also often performed as part of most routine physical exams.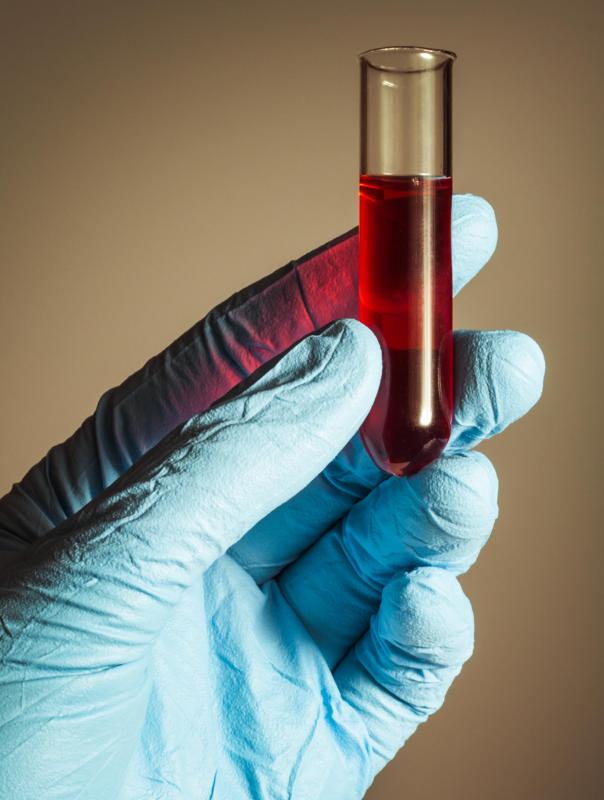 Electrolyte testing may be performed uniquely, or as part of a more comprehensive blood panel. Patients who are found to have only one electrolyte out of balance may be monitored to see if the imbalance resolves. A number of factors can influence electrolyte balances, including diet and water consumption. Dehydration is a common cause of electrolyte imbalance, although other causes can include kidney malfunction and diabetes.
Symptoms that can generally indicate an imbalance in electrolyte levels usually include weakness, mental confusion, abnormal heart beat, and retention of fluids. Some prescription medications, including steroid medications, cough suppressants, and oral contraceptives, can cause electrolyte imbalance as a side effect. People who suffer from chronic illnesses, such as liver disease, heart disease, kidney disease, or high blood pressure may need need to have their electrolyte levels measured regularly as part of a disease management plan.
Treatment for low or irregular electrolyte levels can include changes in diet and fluid intake. Medication may be prescribed to help regulate electrolyte levels within the body. Electrolyte testing is generally repeated regularly whenever inadequate electrolyte levels are detected. Long-term electrolyte balances can cause vertigo, muscle cramps and weakness. If not treated, these conditions can even be fatal.