What Is an Anteflexed Uterus?
An anteflexed uterus is a uterus that is tilted forward in the abdominal cavity. Some forward tilt is natural and can be seen in most women, but in some cases it can become extreme and may cause pelvic pain or interfere with fertility. An ultrasound can determine the exact location of the uterus and provide more information about whether it is a cause for concern. For pregnant women wondering if the "anteflexed uterus" an ultrasound technician or doctor has mentioned is something they should worry about, it is probably not an issue unless the doctor has stated otherwise.
The uterus is designed as a free-floating organ. While it does not wildly float about the abdominal cavity, it enjoys some degree of flexibility and can rotate around its attachment point at the cervix. This is advantageous, as the uterus needs to be able to move when it expands during pregnancy, and the flexibility of movement also allows it to move in response to pressures within the abdominal cavity. In a neutral position, it tends to fall slightly forward, with the fundus, the top of the uterus, pointing toward the front of the body.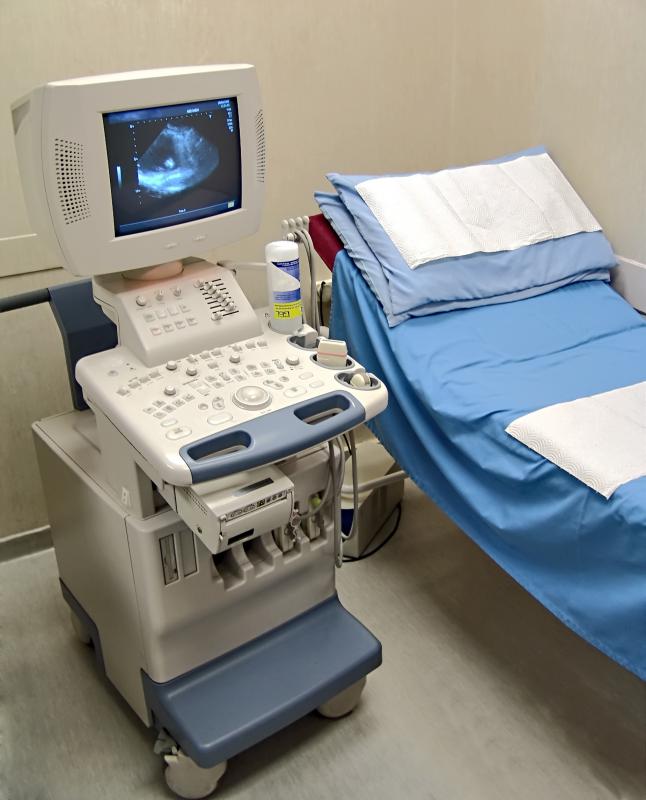 In a severe anteflexed uterus, the organ may fall so far forward that it partially folds in on itself, forcing the fundus up against the bladder. This can lead to incontinence as well as pelvic pain. It is also difficult for a pregnancy to develop in this position, as the fetus does not have enough room to grow in the cramped conditions. This type of anteflexion is a potential issue for patients who plan on having children.
If the anteflexed uterus does cause problems, patients have several options for addressing it. The degree of flexion may be mild, and it could be possible to use massage and bodywork along with muscle exercises or pessaries to push it back into a more neutral position. For more extreme situations, a doctor may need to perform surgery. She can tighten up the ligaments and muscle attachments to pull the uterus into the middle of the pelvis. A doctor may recommend this if the position of the uterus appears to be causing fertility problems.
Other patients may have a retroflexed uterus, where the fundus points toward the spine. This is not necessarily a cause for concern either, as long as the degree of the tilt is not extreme. In cases where the uterus bends too far over, the treatment options are similar to those seen with an anteflexed uterus.