What is an Affidavit of Relationship?
An affidavit of relationship is a legal document including a sworn statement testifying to the nature of a relationship. These documents are commonly used for immigration purposes as people apply for a change in immigration status. Blank forms are provided by many embassies and immigration authorities and people can also write this type of affidavit from scratch, as long as they include legal details required by the government. An attorney can help people fill out or draft such forms if they are concerned about meeting legal standards.
Such statements can take a number of forms. Some may pertain to people in romantic relationships where one partner is applying for citizenship or refugee status. Others may involve descriptions of family relationships, testifying to the relationship between two individuals. An affidavit of relationship can also discuss a business relationship. In all cases, the people in the relationship must be named and described, contact information must be provided, and the nature of the relationship must be defined.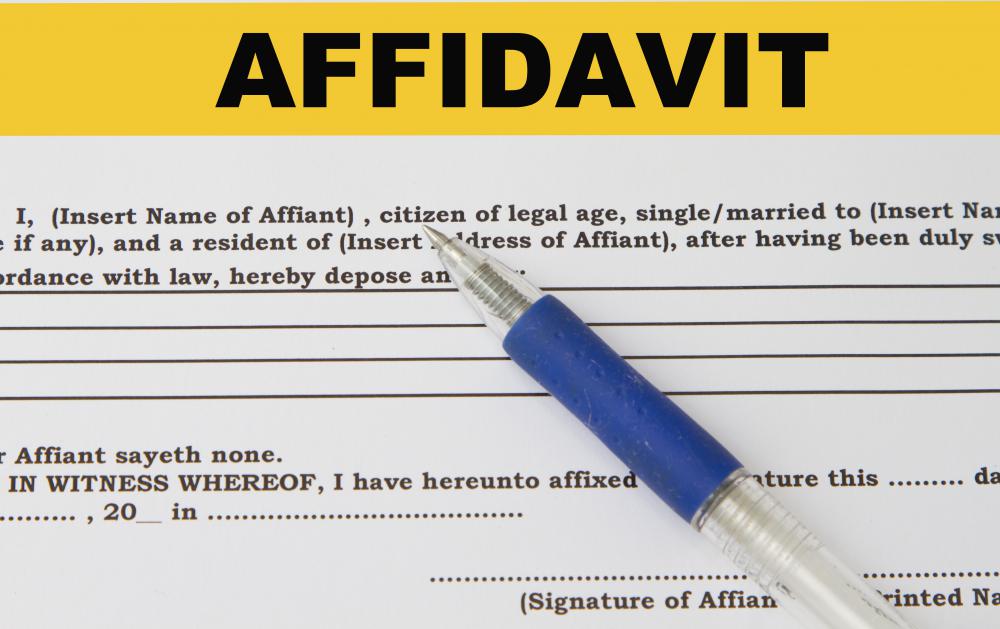 People can file such documents about themselves and they can also file them on behalf of others. In immigration applications, third party filings are often used to support claims that the application involves people who have an actual relationship to each other. Third party affidavits testifying that people are in a romantic relationship, for example, are used to support a visa application for the foreign spouse, showing that the partners love each other and the foreign spouse has a sponsor.
Governments can follow up on affidavits of relationship, interviewing the people named in the documents and investigating the claimed connections. If the documents contradict each other or appear to contain conflicting information, it can be grounds for rejection of an application. People requesting friends and family to file affidavits should make sure the information is uniform; friends, for example, should be reminded to keep the declarations about the length of the friendship consistent on affidavit of relationship declarations.
When filing an affidavit of relationship with the government or another authority, it is advisable to retain a copy. The copy should include notes about when it was submitted and what paperwork was submitted with it. In the event of claims that paperwork was lost or never turned in, people can use their copies to track down the errant paperwork. This can be especially important when lost or missing documents interfere with a deadline or threaten to force people to start an application all over again.