What Is an Affidavit of Fraud?
Unfortunately, many people are the victim of fraud and theft around the world each year. Identity theft, in particular, has become a serious problem in the digital age due to the ease at which someone can retrieve private information from the internet in many cases. In order for the true owner of a bank account or credit card account to avoid being held liable for the money spent or withdrawn when account information is stolen, an affidavit of fraud is frequently required by the financial institution. An affidavit of fraud is a legal document, signed under the penalties of perjury, stating that someone has committed fraud by using the account owner's account or information to make an unauthorized transaction.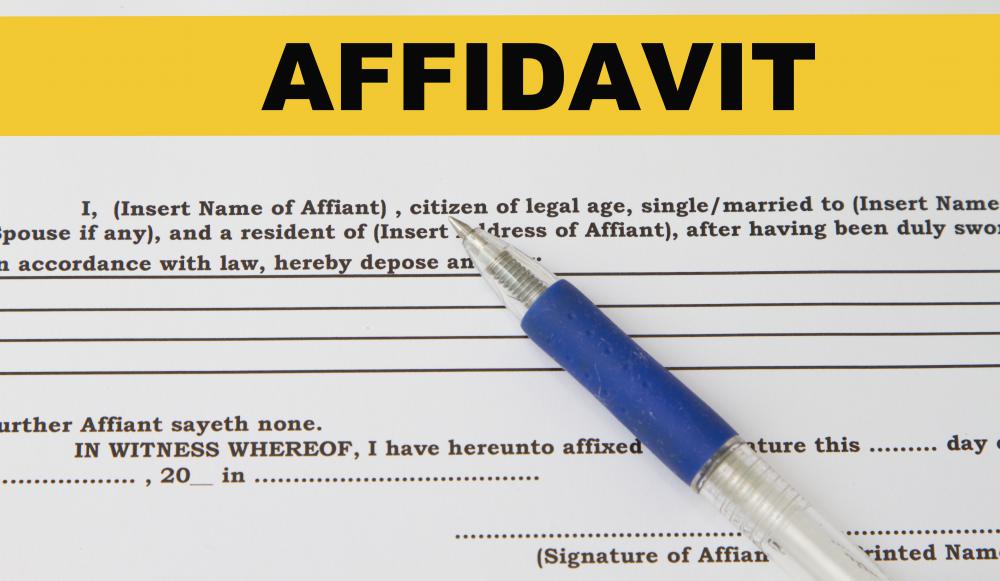 Every day, thousands of people around the world check their bank account online or receive a bank statement, only to realize there are purchases on the account that they did not make. Many other people have a purse, wallet, or luggage stolen that has credit cards or bank cards in it that ends up in the hands of someone who makes unauthorized purchases or withdrawals. Whether the theft has been the result of physically stealing a person's credit card or checkbook, or the result of an electronic theft, when an unauthorized person uses a bank account or credit card, he or she is guilty of theft and/or fraud on the financial institution.
Luckily, most financial institutions understand that thefts of this sort happen all the time and have policies that prevent the true account owner from being responsible for the transactions. Naturally, there are procedures that must be followed to ensure that the criminals will be prosecuted if caught and that the account holder himself or herself is not perpetrating a fraud. Requiring that the account holder sign an affidavit of fraud helps with both objectives.
By signing an affidavit of fraud, the account holder is attesting, under the penalties of perjury, that he or she did not make the purchases or withdrawals that are the subject of the affidavit. This provides some assurance to the bank that the account holder is telling the truth. If, at a later date, evidence shows that the account holder did, indeed, make the purchases or withdrawals, then he or she may have additional charges for perjury leveled against him or her.
In addition, by signing the affidavit of fraud, the account holder can be called to testify against the perpetrator of the crime if he or she is ultimately caught. Again, because the document is signed under the penalties of perjury, the account holder risks perjury charges if he or she changes her mind or later does not want to cooperate with authorities. The affidavit may also be admissible in court without the testimony of the account holder, in some cases, if the account holder is unavailable to testify when the trial takes place.