A wound cover or dressing is any suitable piece of material that covers and protects a wound. It is primarily used to prevent infection and to facilitate the healing process of broken skin. Organic sources such as plant parts, animal fat, and honey were some of the materials used as wound covers in ancient times, while synthetic polymers constitute wound covers from the 20th century. The type of wound dictates which cover is to be used. A wound cover may be passive, interactive, or bioactive.
Debris and germs can enter the skin through a wound, such as a deep cut or even a simple scratch. This can cause infection that worsens the severity of the wound and can possibly spread to other parts of the body. A wound cover acts as a physical barrier that protects the wound against the elements, which can harbor microbes. Germs are blocked from entering, and the natural healing process of the skin is allowed to progress. Some wound covers contain chemicals that hasten wound healing, fight infection, and minimize scarring.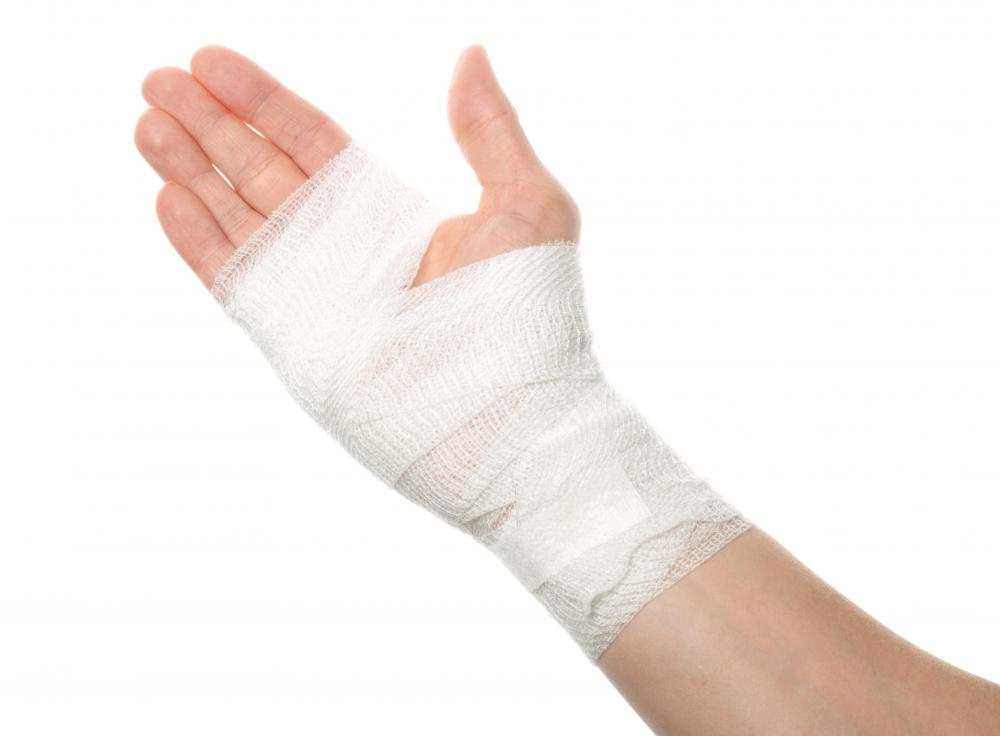 A proper wound assessment will determine what type of wound cover should be used for a wound. The three basic types of wound covers are passive, interactive, and bioactive. A passive wound cover such as a gauze or tulle will serve as a simple cover to allow healing of minor wounds. Interactive wound covers like semi-permeable films and foams and amorphous gels absorb exudates and remove dead tissue from shallow wounds. Bioactive wound covers like alginates, hydrocolloids, and collagens are suitable for exudative, sloughing, and granulating wounds.
The people of old utilized materials from their environment to cover a bleeding wound and other injuries to the skin. Vegetable fiber, roots, and leaves were sourced from surrounding plants. Fats, skin, and honey were some of the materials used from animals. Knowledge of the wound-healing properties of these wound covers were based not on science but from experience, folklore, and traditional medicine.
Over the centuries, those studying medicine developed a better understanding of wound healing. This knowledge created a demand for better dressings that culminated in the development of wound covers made of synthetic material during the 20th century. These advanced wound covers are composed of polymers, which are fabricated in complex ways. A synthetic wound cover has better protective and healing properties than old and traditional types. Different proprietary types of wound covers can be applied to every kind of wound.