What is a Wedding Garter?
A wedding garter is a fabric, band-shaped lingerie item worn by many brides as a part of a centuries-old tradition. Usually, garters are worn in pairs to hold up silk stockings, but wearing only one garter on the wedding day is thought to date back to England and France in the beginning of the 14th century. The groomsmen would actually go into the bride and groom's quarters late on the wedding night to confirm that the marriage had been consummated. As a sort of proof that they were indeed there checking, the groomsmen brought with them something that clearly belonged to the bride. Since garters are worn in pairs, they became the most popular item taken by the groomsmen.
Over time, the tradition changed into the single male wedding guests trying to remove the bride's garter at the reception dinner. It was considered lucky for a single man to get the garter as it was supposed to indicate that he would become the next to be married. In order to avoid a bunch of men competing to take the bride's garter off of her, the tradition was changed once again as brides or grooms began removing the band and throwing it at the bachelors. In most modern weddings that employ the garter toss, the bride is seated while the groom removes the feminine band of lace or silky fabric from her leg and tosses it to the single male wedding guests.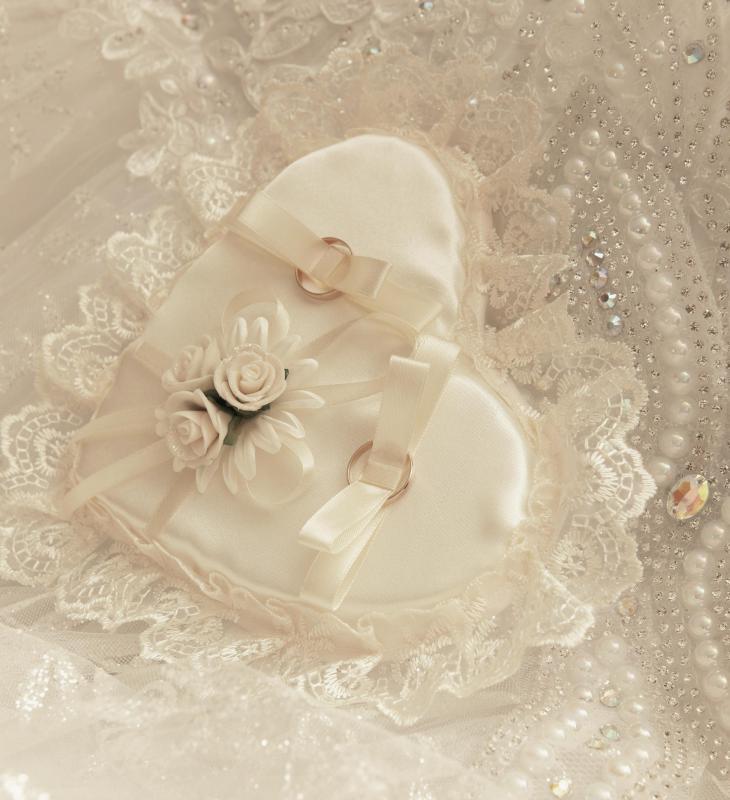 The wedding garter is usually worn on the bride's right leg above the knee. Wedding supply companies sell single garters in many different colors, fabrics, and styles that can be personalized with embroidered initials or little charms such as little double metal hearts. Most are very feminine in style; they have a lot of satin ribbon and lace. The ribbon may be tied into small bows.
The colors of wedding garters often match the color the bride has chosen for the wedding. For example, if her bridesmaids and flowers are pink and her wedding dress is cream, the garter could be made of lace and ribbon in creams and pinks. Other times, brides tie the color of the garter to a meaning such as the traditional wedding saying "something borrowed something blue." In that particular example, the garter color would be blue. It may also coordinate with the wedding's theme, such as tiny seashells hanging from it for a beach-themed ceremony.