A stove bolt is a type of metal fastener that is available in a variety of sizes and materials. A stove bolt is a type of machine screw, which means that it has a metal shaft that does not taper is threaded along its entire length. A stove bolt, like other machine screws, is most often used to hold pieces of metal together. These bolts acquired their name, in fact, because they were originally used to fasten the metal portions of stoves together. The end of the shaft of the bolt is flat.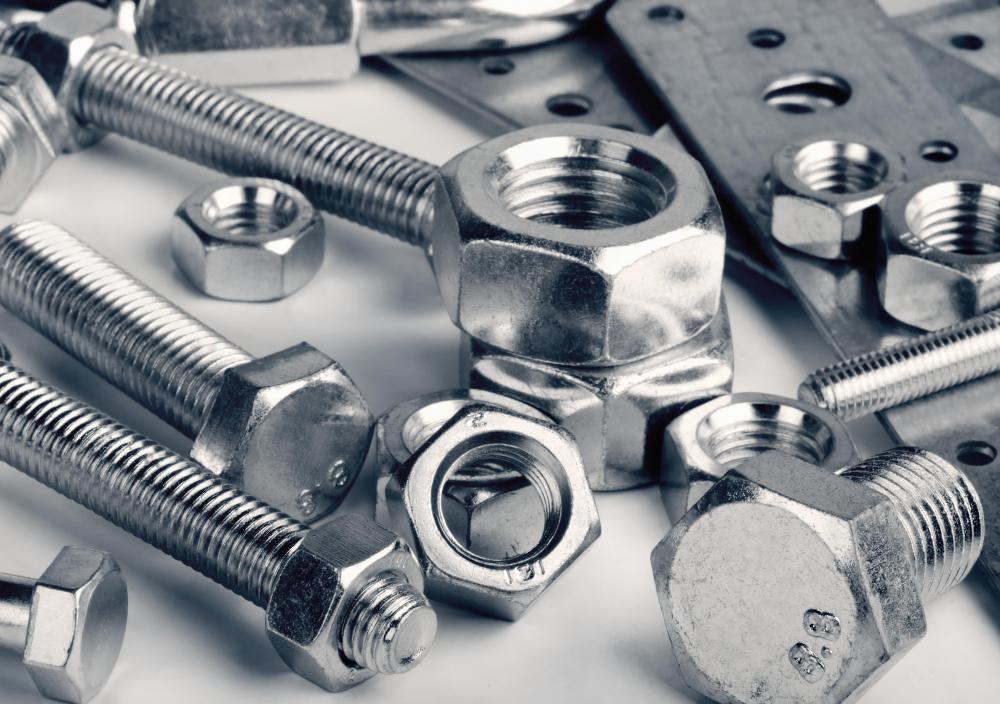 Stove bolts generally have heads that are either flat and slightly tapered on the bottom, which means that they can be countersunk, or they are rounded on the top and flat on the bottom. The head of the bolt is generally slotted for use with a standard screwdriver, although some bolts do use Phillips heads. This bolt can be fastened with either a square or hex nut, and in some cases, a lock washer is used to ensure that the nut remains firmly in place.
Both metric and Unified Thread Standard sizing can be used to measure bolts. Unified sizing is much more common in the United States. Stove bolts manufactured to unified sizing rules will most frequently use either unified fine spacing (UNF) or unified coarse spacing (UNC). The exact distance between threads is variable, with larger bolts having fewer threads per inch (2.54 cm), but fine thread spacing always has more threads than coarse spacing at a given diameter. These bolts are typically available in a variety of lengths and diameters, and their labels identify their length, diameter and thread spacing.
Stove bolts are available in several grades of material. Most bolts are made of steel and are suitable for ordinary applications. Mild steel bolts typically will have a zinc or galvanized finish in order to offer some resistance to corrosion and water damage. Carbon steel bolts can be used in situations where greater strength is required. Stainless steel bolts, while less common, are available, and they can be used when corrosion or moisture resistance is a priority.