A spizaetus is a genus of hawk-eagles found in the tropical regions of North America, Central America and South America. The four species in this genus are the black hawk-eagle, ornate hawk-eagle, black-and-white hawk eagle and black-and-chestnut eagle. Although these species differ slightly in size, they are generally around 2 to 2.5 feet (61 to 76 cm) long with wingspans ranging from 36 to 65 inches (91 to 165 cm) wide. Each spizaetus species has a distinct appearance that helps it blend in with its environment. The hawk-eagles are skilled hunters that feed primarily on other birds and mammals.
Black hawk-eagles, or Spizaetus tyrannus, inhabit tropical forests, open forests and wetlands as far north as Mexico and as far south as the eastern coast of Brazil and northern Argentina. Adults range in size from 23.5 to 26 inches (60 to 66 cm) long and have wingspans measuring between 45 and 58 inches (115 to 148 cm) wide. Their body and crest feathers are mainly black with white and gray bands on the undersides of the wings and tail. The diet of this species includes small monkeys, bats, marsupials, iguanas, snakes and toucans.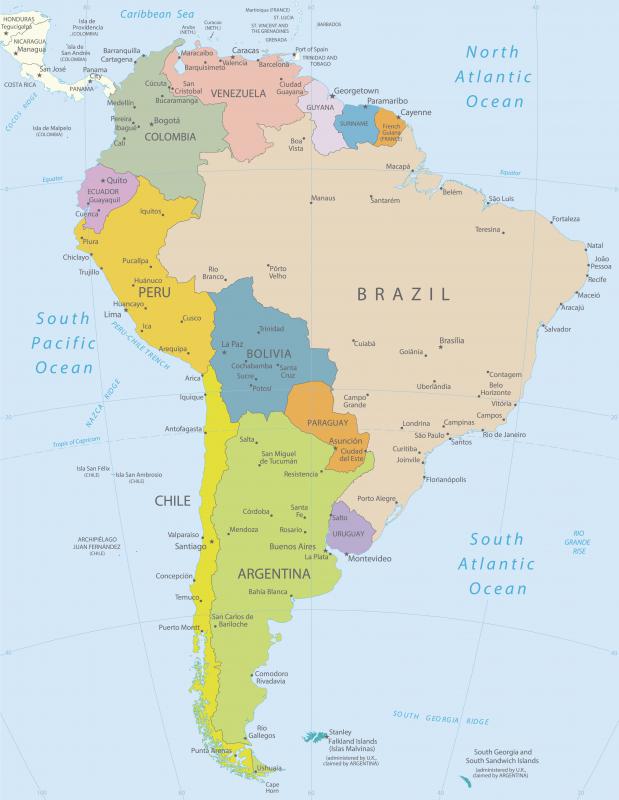 Ornate hawk-eagles, or Spizaetus ornatus, are found in subtropical and tropical forests, swamps and lowlands from Mexico to northeastern Argentina. This spizaetus species measures between 23 and 26 inches (58 to 66 cm) in length with a wingspan of 36 to 48 inches (91 to 122 cm) wide. Adults have a crest of feathers on the head that sometimes stick straight up. Their coloring is mainly a reddish-brown with bands of white and dark brown or black feathers on the chest. Ornate hawk-eagles feed primarily on other birds, such as macaws, but their diet also consists of mammals and reptiles.
The forests and savannas of Mexico, Costa Rica, Panama, Honduras, Bolivia, Paraguay, Venezuela and other South and Central American countries serve as the natural habitat for the black-and-white hawk-eagle, or Spizaetus melanoleucus. Adults typically reach an average body length of 22.5 inches (57 cm) and have wingspans around 51 inches (130 cm) wide. These hawk-eagles have white feathers covering the head and chest and black feathers on the wings and back. Their head crests are shorter than those of other hawk-eagles. They hunt other birds, reptiles, amphibians and mammals.
Black-and-chestnut eagles, or Spizaetus isidori, live in the forests of mountainous areas in Colombia, Ecuador, Peru, Venezuela, Argentina and Bolivia. They measure between 25 and 29 inches (63 to 74 cm) long and have wingspans between 58 and 65 inches (147 to 166 cm) wide. Their coloring is a mix of black, chestnut and white feathers, with the darker feathers covering the wings, crest and back and the lighter feathers on the chest. They feed mainly on other large birds and mammals, such as monkeys.