A sewing gauge is a sewing tool or notion commonly found in the tool baskets of seamstresses and other people who sew frequently. It is designed to allow the user to quickly and accurately measure distances repeatedly, with the assistance of small movable markers. Using a gauge ensures that the distance between items like buttons will be uniform, and also assists with hemming, trimming, and other sewing tasks that require precise measurements. Most sewing supply stores carry these tools, and they are also available through mail order and Internet retailers.
A typical sewing gauge is 6 inches (15 centimeters) long. It is also designed to act as a ruler, and is usually marked exactly in the same way. Clips attached to the gauge can be moved to mark out distances, allowing the seamstress to take quick and accurate measurements. Both metals and plastics are used to make this tool, with wooden varieties being less common, since wear can cause the movable clips to shift while in use, which could potentially cause problems.
When marking out distances between things like buttons and buttonholes, this tool is extremely useful, because it ensures that the distances will be uniform and even. Especially in the case of buttons, the sewing gauge will ensure that two halves of a garment match up, which is very important. It can also be used to pin hems, to ensure that the hem is even all the way around before sewing, and it may be used to mark out trim and embroidery as well.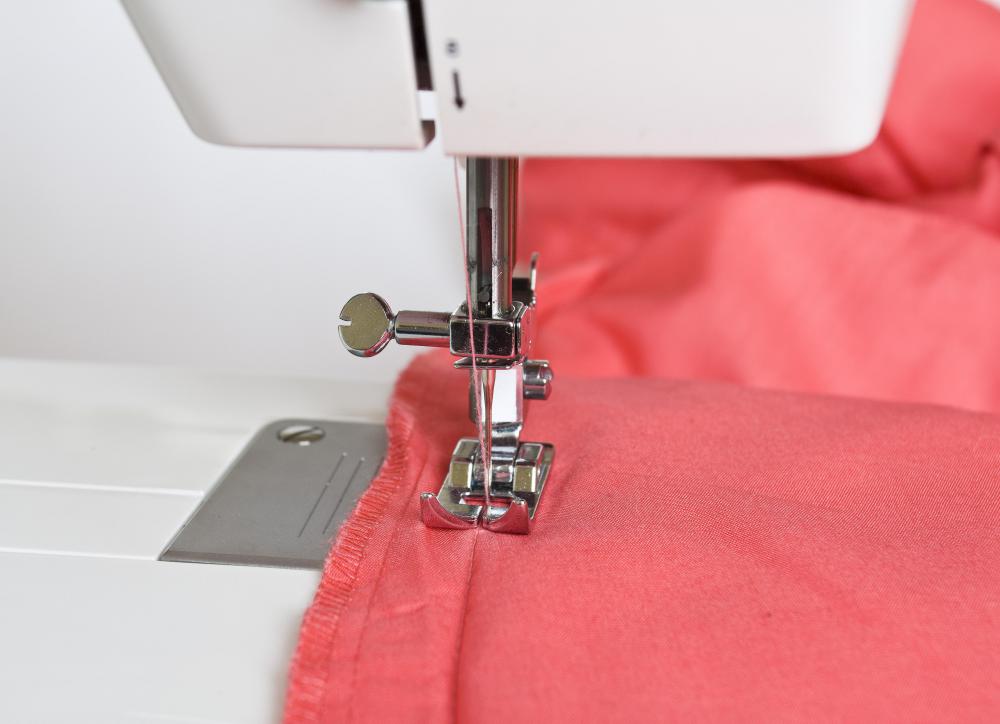 While not a vitally necessary tool, it can make sewing much easier and more pleasant. In addition to measuring tapes, rulers, and other tools of the trade, the sewing gauge will help a seamstress turn out products with a crisp, professional look. It is also useful in quilting and the fiber arts, and some other trades, such as woodworking, have adopted the tool as well.
This tool should not be confused with a knitting gauge, which is a concept. In knitting, the "gauge" of a piece is the number of stitches it takes to create a piece of a specific size. Knitting gauge is important for pattern sizing, as a small deviation can make a big difference on a large item like a sweater. It can be written out in a number of ways, but typically stitches are placed before length, so it might look like "24 stitches = 2 inches (5 cm)". A more complete knitting gauge provides dimensions, such as "24 stitches x 30 rows = 2 inches x 2 inches in stockinette stitch."