A running shirt is usually made of high-tech fabrics and designed specifically for maximum comfort while running. Many different types are manufactured in order to accommodate varying weather conditions, types of running, and personal preferences. The price of a running shirt can easily be three times as much as that of an average t-shirt, but, for regular runners, the added features are often worth the cost.
Some runners wear a normal, cotton t-shirt for running, particularly if they are occasional runners or just beginning in the sport. A running shirt has several advantages over a t-shirt, however, especially when running longer distances or in extreme temperatures. Depending on the conditions that running shirts are designed for, they may include features to wick sweat away from skin, block ultraviolet (UV) rays, trap in body heat, or control odor. In addition to shirts that are designed specifically for running, shirts designed for general athletic activities often include many or all of the features found in a running shirt.
Most running shirts that are designed for summer months and warm temperatures feature sweat-wicking and odor-reducing fibers. Some also have built-in UV protection. Fabrics that include silver or ceramic fibers provide both anti-sweat and anti-odor properties. Antimicrobial fabrics are also designed to reduce odor. Coconut fragments are included in some fabrics, also to reduce odors and provide UV protection. Some fabrics, such as those made with polypropylene material, have all three attributes.
The main goal of a winter running shirt is to be both warm and lightweight. Synthetic materials, such as polyester and fiber blends, are often used. If natural fibers are desired, some shirts are made with a lightweight wool or wool blend. There are also winter running shirts that include hoods or thumb holes in the sleeves to partially cover the hands. In especially cold weather, it is best to dress in layers, including at least a running shirt and a lightweight jacket made of nylon or another wind-resistant material.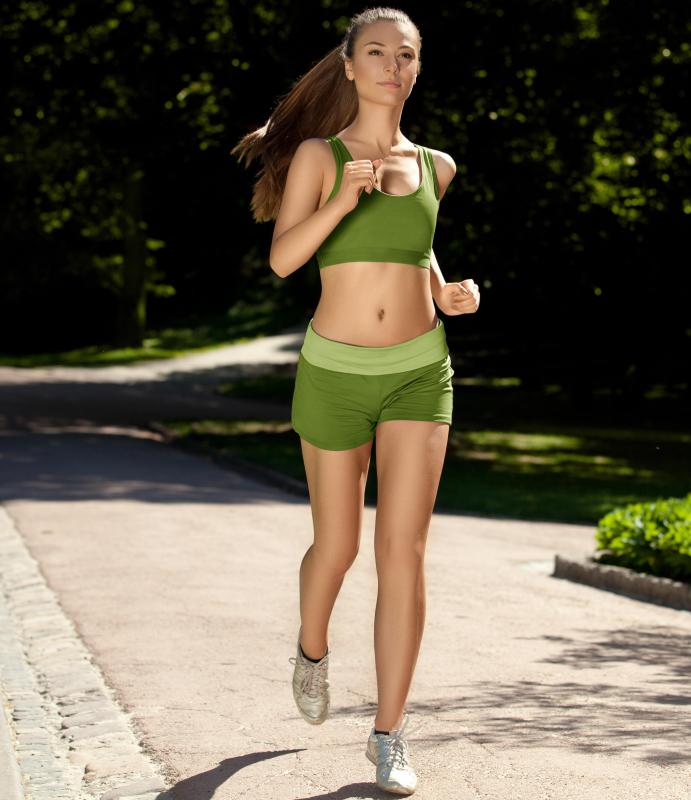 Beyond the technical features of a running shirt, other considerations include style and fit. Both men's and women's running shirts are available in long sleeve, short sleeve, sleeveless, and tank styles. Some women's shirts are also available with a built-in sports bra. The fit of these garments ranges from loose to compression shirts, which fit very snugly. Neckline styles include mock necks for extra warmth, and crew and v-neck styles. Other features sometimes found in running shirts include zippered pockets and hidden straps to keep headphone wires in place.