What is a Red Blood Cell Count?
The red blood cell (RBC) count is a blood test which determines the number of red blood cells, or erythrocytes, in a sample of blood. This test also evaluates the shape and the size of the red blood cells. All of this information is then used to determine the number of red blood cells per microliter of blood.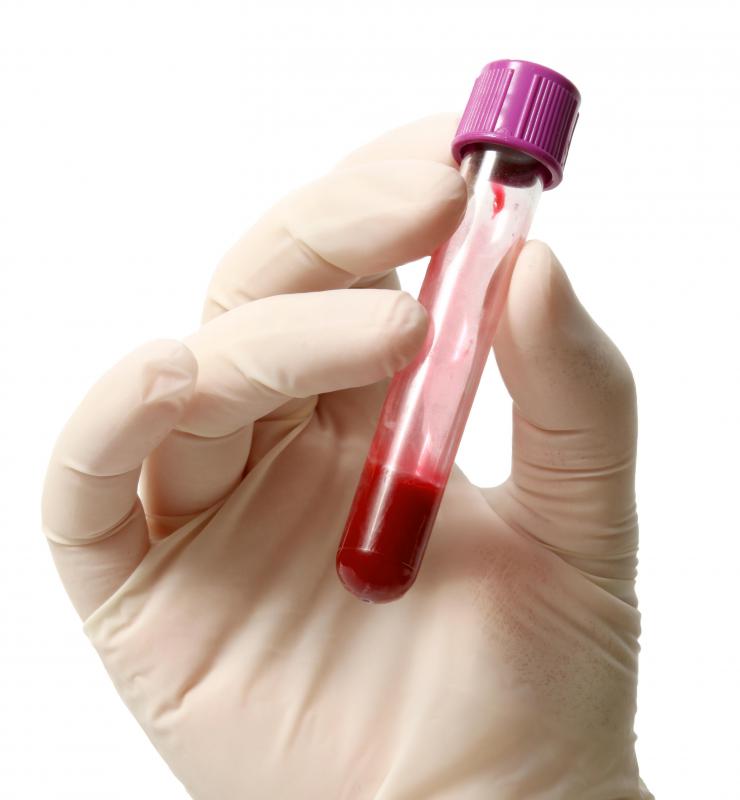 Red blood cell count values vary according to the age and the sex of a patient. The RBC count ranges from 4.2-5.0 million red blood cells per microliter of blood for women and 4.6-6.0 million for men. A normal red blood cell count for children is typically between 3.8 and 5.5 million red blood cells per volume.
This blood test is considered a very important indicator of a patient's health. A low cell count might mean the patient has anemia, acute or chronic blood loss, malnutrition, chronic inflammation, or a number of nutritional deficiencies including iron, copper, vitamin B-12, or vitamin B-6. On the other hand, a higher than average RBC count, called polycythemia, can be a sign of congenital heart disease, pulmonary fibrosis, or renal problems. An increase of red blood cells can also happen naturally, though. People who live at high altitudes tend to have a higher-than-average RBC count, and smokers generally have a higher number of red blood cells than non-smokers.
An RBC count is almost always ordered as a part of the complete blood count (CBC), which determines the number of RBCs, white blood cells, and platelets. This blood test is also generally required for routine physicals and pre-surgical procedures. Patients with chronic anemia, hematological disorders, or chronic bleeding problems have their red blood cell count tested quite often so their physicians can keep track of any significant increase or decrease of red blood cells.
To get the sample needed for the RBC count, a patient's blood is drawn from a vein, usually from the inside of the elbow or on the back of the hand. There are only slight physical risks in taking this blood test. The most common minor risks are feeling light-headed, fainting, and suffering through multiple punctures in order to locate a good vein.
Red blood cells are the most common type of cells in the blood, and are extremely important because they carry oxygen from the lungs to the body tissues. How much oxygen the body tissues receive depends on how many RBCs an individual has and how well they work. Thus, a routine blood test to determine the red blood cell count can help an individual stay healthy.