What Is a Precancerous Polyp?
A precancerous polyp, or adenoma, is a small mass of tissue found most commonly on the inside of the digestive tract. As many as half of all people have some number of these lumps in their intestine. For the most part, these lumps are benign and never become malignant. Doctors do consider their presence serious because of the risk of cancer development, and polyps should be identified, monitored, and dealt with through periodic screenings.
Polyps are relatively small, and most are no more than one inch (2.5 cm) in diameter. They sit on small stalks that are connected to the lining of the intestine. The likelihood of an individual having a polyp increases most dramatically with age. Other risk factors include smoking, poor diet, lack of exercise, and heredity. The chances of acquiring polyps can similarly be reduced by adhering to a smoke-free, healthy lifestyle.
The presence of polyps is generally asymptomatic, meaning they do not cause any kind of discomfort or other signs belying their presence. Only extremely large polyps tend to result in physical side effects, generally abdominal pain or bloody stool, and in rare cases bowel obstruction. For this reason, preventative screening is highly important.
Stool tests and gastrointestinal scopes, such as a colonoscopy, are two of the methods used to determine the existence of polyps. A doctor may also insert a very mild radioactive barium mixture into the intestine and take an X-ray. In this test, polyps show up white on the X-ray image. Barium X-rays are considered less precise than physical scopes, and though they do not require the sedation or recovery time of a colonoscopy, they are less preferred by doctors as a means of identifying problems.
Any polyps detected in a screening can be easily removed, often during the screening procedure itself. They are then tested to see if they are malignant or not. Smaller polyps are less likely to be cancerous, but all are removed for testing purposes. Though a precancerous polyp by definition is not cancerous, some do become malignant over time, generally within five to ten years.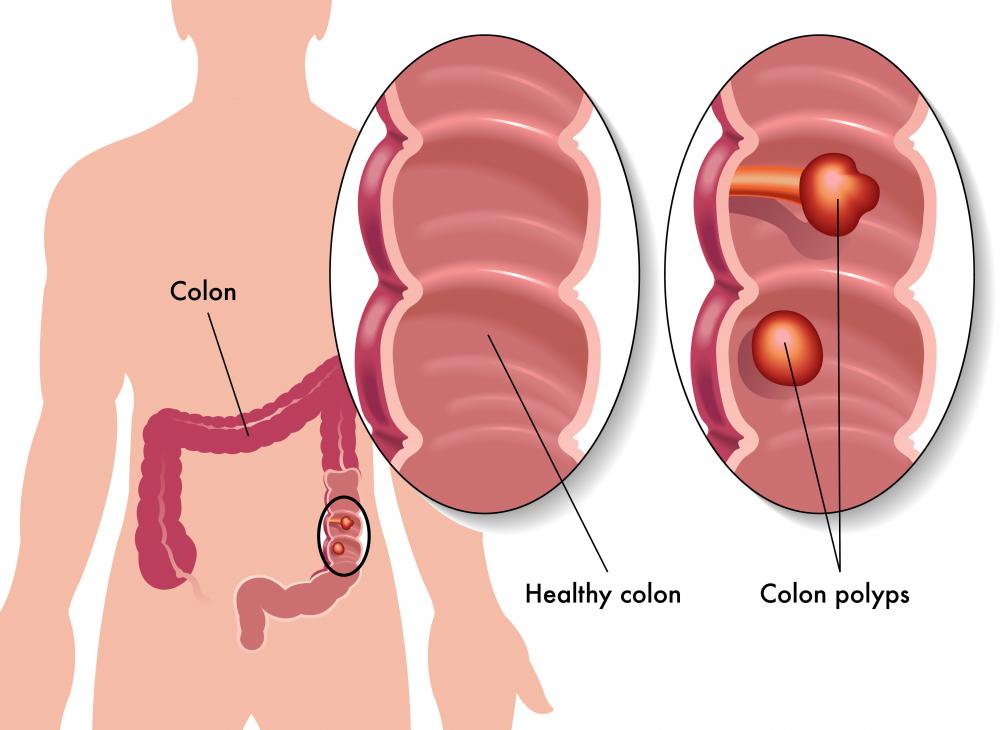 Colon cancer is one of the deadliest types of cancer but also one of the easiest to prevent through precancerous polyp screening. Cancer restricted to the abdominal wall can effectively be cured through surgery. If left untreated, colon cancer can spread to nearby lymph nodes and become much more difficult to treat. Given the high correlation between aging and precancerous polyp development, doctors recommend annual screenings for everyone over the age of 50.