A nylon suture is a needle threaded with nylon thread used to join two edges of a wound together. Nylon is a non-absorbable suture, meaning that it doesn't dissolve in the body like other types of suture threads. Its durability makes a nylon suture particularly useful when closing wounds in the skin or internal organs.
The use of surgical sutures has a long history in medicine. Catgut and silk were used in the middle ages, while alcohol-based and synthetic fibers are commonly used in the modern era. Nylon has been used for sutures since its invention in 1930, when it was first developed as a substitute for silk.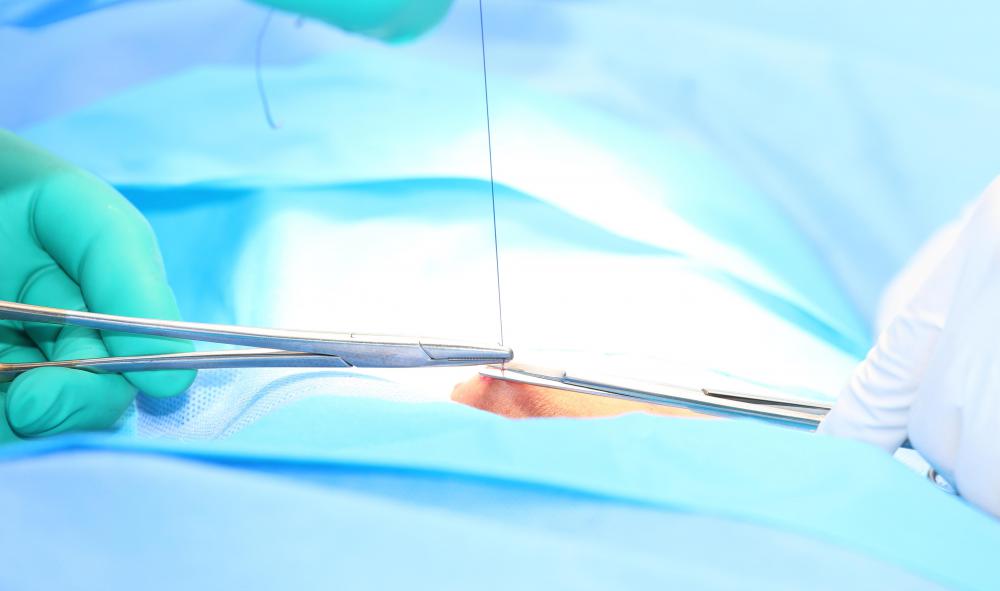 Though nylon has a strength and durability that makes it different from other materials, all sutures share some common characteristics. For example, all sutures need to be sterilizable, resistant to infection if left in the body for long periods, easy to handle, strong, and to be able to hold a knot securely.
The technique for placing a nylon suture is the same as that used for all sutures. The nylon is first threaded on a specially curved and sharpened needle used for piercing the skin. The wound site is then cleaned and treated with a numbing antiseptic for the comfort of the patient. The number and placement of stitches depends on the type of wound and the discretion of the surgeon.
One of nylon's particular attributes is that it can retain its strength for years. Some wounds are located in parts of the body which undergo a great deal of movement and stress, such as vital organs. The heart, brain, arteries, and bladder are good examples of places where these sutures would be used. In some cases, sutures would be left in the wound permanently to provide strength and support.
Nylon sutures are also often used to close wounds in the skin. Such wounds require flexibility as well as strength. A nylon suture is often the best choice for such a wound, since nylon is particularly pliable when moist.
Since it does not absorb into the body, this type of suture will have to be removed by a doctor once the wound has begun to heal. Sutures are typically removed by clipping the end of the knot, then pulling out the threads using forceps. Since a wound is usually only 5% to 10% healed when sutures are removed, the suture will often be replaced with adhesive strips to keep the wound clean and to help avoid scarring.