What is a Low Flow Shower Head?
A low flow shower head is a replacement fixture for showers. It's used to reduce the amount of water flowing through the shower's tap. Regular shower heads emit twice as much water as low flow fixture types. Low flow shower heads can reduce energy costs as well as conserve the important environmental resource of water. The two main types of low flow shower heads are aerating and non-aerating.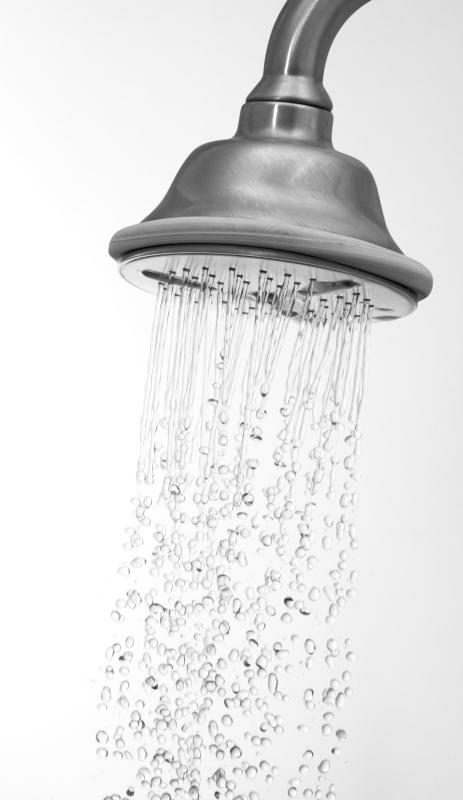 Aerating shower heads allow air to flow in with the water. This creates a softer, even spray. A non-aerating low flow shower head design doesn't allow air in the water stream. The result is a harder, more massaging type of water flow. Some non-aerating low flow shower heads have adjustable massage features. Installing any type of low flow shower head is usually a simple and quick process.
Low flow shower heads work to reduce and focus the water spray by controlling the size as well as the direction of the water drops. The size and shape of the holes in a low flow shower head formulate smaller water drops that angle down more on the person showering than around him or her. Water is conserved because the amount of it falling each minute is reduced.
Since the water is more focused on the person showering, there is an increased chance of scalding. A plumber can install an anti-scald plumbing valve and this should remedy the problem. In many cases, scalding occurs when a toilet is flushed and causes the shower water to run very hot. The piping needs may not be large enough for the home; a plumber may be able to adjust the pipes. Lowering the temperature of the water heater is a good idea if scalding is a possibility.
The comfort and style offered by regular shower heads don't have to be compromised by replacing them with a low flow fixture. There are many different choices of both aerating and non-aerating shower heads. Some low flow shower heads are even available in a gold finish rather than the usual chrome or nickel. Low flow styles may be sold as water conservation shower heads.
Self-cleaning low flow shower heads prevent the water spray holes from becoming clogged. Some water conservation shower heads have different spray adjustments; the sound of jet sprays may bother some people. A low flow shower head is often priced between $5 and $50 US Dollars (USD). Some extra low flow heads sell for about $80 USD. A low flow shower head is available for both hand-held nozzles and fixed pipe plumbing for showers.